Operating from locations in Los Angeles, New York, Toronto, Vancouver and Atlanta, US equipment rental, production and postproduction company Sim recently completed a major expansion of its Manhattan postproduction facility. Of seven new rooms there, four accommodate audio, including three broadcast-audio 5.1-surround mix suites, one with Dolby Atmos, and an ADR/VO recording studio, which can accommodate as many as five actors.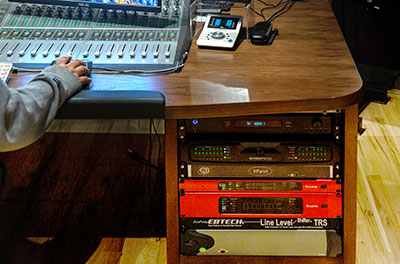 All four audio rooms and a central machine room are linked using a network employing components from Focusrite's RedNet range of Dante-networked audio converters and interfaces.
Four RedNet 5 Pro Tools HD bridges are located in the machine room, feeding the Pro Tools systems in each of the three broadcast audio mix suites. Two of those suites are equipped with RedNet 1 eight-channel AD/DA interfaces, while all three suites have RedNet 2 and/or RedNet A16R 16-channel analogue I/O interfaces. These three types of RedNet interface create a robust, efficient and effective AoIP infrastructure that has vastly streamlined the workflow for Sim. In addition, a Focusrite RedNet X2P 2x2 Dante audio interface is being used for ad-hoc recording sessions in the facility's large theatre.
The new studio resources are geared toward scripted television, as Sim Post seeks to support the current boom in broadcast and streaming production. 'We are responding to an acute need for more high-quality post services in New York, especially for television,' says Sim Post New York Partner and Vice President Kim Spikes. 'Our new sound and picture resources are designed to meet the finishing and delivery needs of those scripted productions.'
Recent TV credits for Sim New York include the MTV VMAs, Wu-Tang Clan: Of Mics and Men for Showtime, and Deal or No Deal for NBC; film credits include Motherless Brooklyn for Warner Bros and Someone Great for Netflix.
The RedNet audio network is critical to making that happen, says Sim Senior VP of Post Engineering, Liam Ford: 'RedNet lets us connect all of these spaces together on single strands of Ethernet cable, instead of the dozens of copper cables we'd need otherwise, which is a huge cost savings. Also, we have much greater flexibility from putting our Pro Tools systems in a central location and networking from there to each mix room. That way, our editors can continue working on the Pro Tools deck of their choice, configured the way they want it, in any of the rooms, because the Pro Tools systems aren't locked to a particular room. In addition, when we need extra processing power, we can connect multiple Pro Tools stations together on the network. And we have all of our related audio, such as recording and talkback mics, on that same RedNet network. It's a full AoIP system.'
The new studios, which came on line earlier in 2019, can also serve as a template for future audio post expansion. 'In the event we expand to other cities, what we've done in New York with RedNet is the model for how to do it going forward,' Ford says. 'The advantages it offers, at a time when we're so busy and the amount of work continues to grow, are incredible.'
More: http://pro.focusrite.com