Vue Audiotechnik has named QVSound-Thanh Liem Sound & Light as its agent in Vietnam.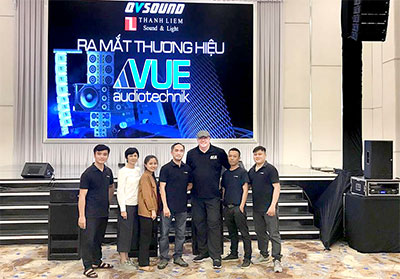 'QVSound-Thanh Liem Sound & Light's extensive experience in system design and installations applications qualifies it as the ideal company to expand Vue into this market,' says Vue COO, Sara Elliot. 'The company has been involved in some of the largest media and musical festivals and events in Vietnam. We are thrilled QV Sound will now offer Vue's products and design solutions and equally thrilled about the prospect of working with the team in the years ahead.'
Following the agreement, Vue's Tony Sawyer provided a hands-on demo of the al-Class during an event at the San Peridot, Adora Center in Vietnam. The audience of contractors and venue audio operators were impressed by the high-frequency performance of Vue's Beryllium drivers.
'The audiences could not imagine how the tiny dual 4-inch Line Array could reproduce a such crystal clear sound and be so powerful,' reports QV Sound Business Development Manager, Quoc Nguyen. 'We laid down the first stone; the road is still long ahead of us. We will work hard and smart to reach the end together.'
'QV Sound-Thanh Liem Sound & Light's experience and wide network in the region allows us to introduce Vue's products to this new market,' Sawyer adds. 'We are excited to see Vue's brand expand into this territory.'