The inaugural Abingdon Summer Fireworks Festival drew more than 10,000 people to witness four showcase firework displays choreographed to music, culminating in a spectacular performance from the evenings' host, double British Firework champions, Illusion Fireworks Ltd. With audio a key part of the event, Illusion turned to A/V productions specialists Sound Solutions…
With one festival-goer describing it as 'even bigger than Disney', the event's sound was delivered by a 'significant' Halo-C line array system from EM Acoustics.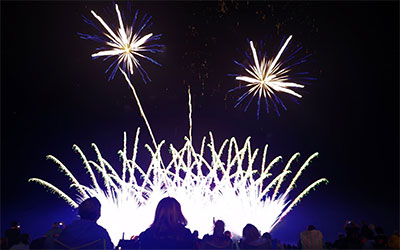 Sound Solutions' James Richardson explained that Illusion came to them having been impressed by the clarity of the audio on other fireworks and pyrotechnics shows that both companies had supplied: 'They know that we do a good job, and they wanted the same audio quality for Abingdon – for shows like this, what you hear is almost as important as what you see, so it had to be absolutely top quality, but still remain within the limits of their budget. Halo-C was the ideal solution.'
The system had to cover an audience of around 10,000 people across a width of up to 180m and 120m deep. Richardson and his team supplied a total of 32 Halo-C cabinets in four hangs of eight over two groundstacked EMS-215 subs. The PA towers were set up in a line in front of the fireworks launchers with the inner towers 40m apart, and the outer towers a further 30m out. The day before the show, the organisers decided to release more tickets due to the extreme demand, so Sound Solutions provided a further three EMS-122 out fills supplemented by an MSE-218 sub at either end of the line to ensure complete coverage for the larger crowd.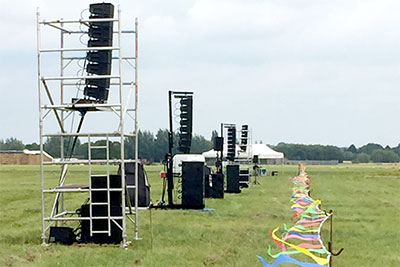 'It was a challenging space and very large audience for the size of the system, but the PA did everything we expected and more,' says Richardson. 'We achieved even coverage and great SPL all the way out to the back of the audience who were 120m away. This is partly due to the excellent rear rejection of the Halo-C hangs, which helps focus the energy out front towards the crowd. The music could be heard loud and clear over the fireworks.'
'Halo-C is one of the only small line arrays that we would consider for this size of job as its clarity over distance and SPL-to-size ratio is fantastic, and therefore copes with much bigger audiences than might be expected,' he continues. 'This also helps when transit space is limited and keeps everything nicely within budget for the client.'
'I'm a big fan of Halo-C which packs an enormous punch for its size,' concludes Richardson. 'Its coherency is amazing – it's very fast, and very loud. It's a versatile system to have in your inventory.'
More: www.emacoustics.co.uk