Keeping heritage sites across Britain busy through the summer, the classical concert season saw Proms in the Castle set up in grounds of Pontefract Castle, West Yorkshire for an evening with the West Yorkshire Symphony followed by a fireworks display. With a capacity crowd of 2,000, local production company, Sound & Light UK (SLUK), fielded an EM Acoustics Halo-A large-format line array system for the first time on a live outdoor event.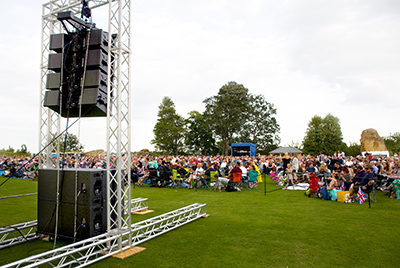 SLUK has been involved in the event since 2015, using an active system that required covered PA towers to protect the internal electronics. The client was extremely nervous about moving away from a system that, according to SLUK's Chris Bottomley, had consistent done the job. But as he points out, the opportunity to put Halo-A on the event was too good to miss…
'Ian Downes [Programmes and Events officer, Pontefract Castle] was very uneasy about changing anything as he'd been burned in the past by a seriously underspecced system – which was why we got the gig in the first place – and what we had in place got the job done. I had to use all my powers of persuasion to let us try out Halo-A, and he's now very glad we did.'
The West Yorkshire Symphony is a 60-piece orchestra, and the brief to individually mic each instrument resulted in 96 channels of audio with sound reinforcement capable of covering quite a large area – 50m wide by 80m deep with the FOH position at 60m down the field. SLUK provided four Halo-A cabinets per side flown from traditional truss PA towers supplemented by two MSE-218 subs on the ground.
'The sheer power delivered by Halo-A was incredible,' Bottomley reports. 'Even when the tops are just ticking over, it's such a big sound. It's clean, it's fast, it's accurate and the amount of information and detail is unbelieveable, as is the amount of headroom in the HF. Compared to our previous system, it was like night and day.
'Another advantage of the Halo-A system is that the feedback rejection is exceptional which gave us a lot more headroom,' he continues. 'In previous years, the overall volume was limited by feedback on the bottom end, partly due to the way the orchestra is laid out with three double basses and six cellos over to one side. However, this was no longer the case with Halo-A. Funniliy enough, people said it sounded quieter at the back, but when we measured it, it was actually louder, which is a measure of how clear and transparent the system is.
'I spoke to Ian at the interval to ask if he was happy so far, given his earlier misgivings. He said, "It's perfect; it's much cleaner than the previous system that we've used and the volume's fine". His final comment after the show was, "What a stunning-sounding PA system; it feels as though we're listening to the instruments and not the PA". That's the Holy Grail for every PA system, so we're very happy with that.'