Welcoming nearly a quarter of a million attendees to its venues along the shores of Switzerland's Lake Geneva, the Montreux Jazz Festival wrapped up 16 days of music with Meyer Sound as Official Sound Provider for 33rd consecutive year and DiGiCo marking 11 years serving the event. Meyer Sound Leo Family line arrays were flown in all three principal venues and scaled-down systems, with two anchored by the new Ultra-X40 point source loudspeaker at the smaller venues, while DiGiCo's SD7 Quantum took FOH at the Stravinski Auditorium among other duties.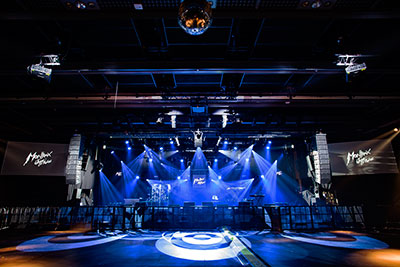 'Every year we have the chance to bring our newest products here to Montreux,' says Executive Vice President Helen Meyer, 'so every year the sound gets a little better. The products we make are very focused, allowing us to create just the right sound to elevate the audience experience in any environment. And what we've heard about the Ultra-X40 here so far is very gratifying.'
Ultra-X40 systems served as the mains for two of the festival's smaller venues, La Coupole at the House of Jazz and Terrasse ibis Music.
'With its very fine and precise resolution in the midrange and upper midrange, the Ultra-X40 maintains exceptional intelligibility and allows for clear distinction of the various musical sources,' says Mika DeRose, FOH engineer at Terrasse ibis Music, a free lakeside venue featuring concerts and DJ sets.
La Coupole was the scene of jam sessions into the early hours, with participants including Janelle Monáe, Rag'n'Bone Man, Lizzo and Jon Batiste. Precise coverage control was a key factor due to the 1am to 5am time slot, according to FOH engineer Fanny Gaudin. 'Adding Ultra-X40 to the kit, with its extended frequency response and dynamic range coupled with a horizontal rigging option, allowed us to decrease the measured SPL by 5dB compared to last year, yet eliciting even better audience response.'
The Ultra-X40 also earned accolades for its supporting role as fill systems at Auditorium Stravinski and the Montreux Jazz Lab. The main system at Auditorium Stravinski, based on Lyon line array loudspeakers, carried memorable performances by Quincy Jones, Janet Jackson and Bon Iver while bidding a fond festival farewell to the retiring Joan Baez.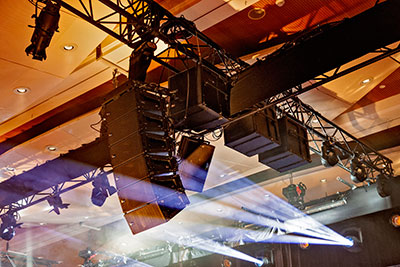 'In 2019, we had the privilege once again working with the Meyer Lyon line array system at Auditorium Stravinski,' states Festival Production Manager & Production Manager Auditorium Stravinski, Marco Güntensperger. 'Given the wide range of artists with origins in very different genres, Lyon proved to be the perfect match for MJF. The majority of touring acts come in with their own FOH sound engineers, and they were praising the precise set-up and dynamics of the system overall.
'No matter if it was Tom Jones or Chemical Brothers, the system proved to cover all types of sounds at its best. Cooperation with the Meyer Sound team was another privilege for our audio team at Stravinski. Pre-production works executed by Meyer Sound's José Gaudin as well as Martin Reich were top-notch. We are looking forward to next year's edition already.'
Meyer Sound's Leopard line array loudspeakers anchored a system deployed at the Montreux Jazz Lab for the benefit of Ibeyi, Koba LaD, JKJ, Rita Ora and other purveyors of pop and hip-hop. At the Montreux Jazz Club, a smaller yet potent Lina line array system served up delectable sounds from Joe Jackson, Bobby McFerrin, Chilly Gonzales and many others.
In 2019, DiGiCo consoles were installed at all of the festival's major sites, each fitted with the new 32-bit I/O cards, with SD7 Quantum consoles at FOH and monitor position at the flagship Stravinski Auditorium. An SD7 Quantum was also installed in the demo/prep room, a facility DiGiCo provides each year, for visiting engineers to come and explore the new developments, including a Klang in-ear monitor system, allowing engineers to study the integration possibilities. As well as the two SD7 Quantum consoles, the system specified for the Stravinski Auditorium included four SD-Racks and two SD-Mini Racks.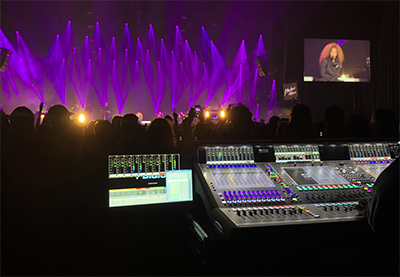 Festival highlight Janet Jackson – who has in recent times only played two shows outside of the US – performed her anticipated headline show at Stravinski, with FOH engineer Kyle Hamilton using her own touring SD7 Quantum system. She was preceded by the legendary, Quincy Jones, who performed a 'soundtrack of the 80s' mixed on the house SD7 Quantum consoles.
Other key artists who also arrived with their own touring DiGiCo consoles were notably ZZ Top (with Jamie 'Jamo' Rephann using an SD10 at FOH plus two SD12 consoles at monitors all supplied by Clair Brothers), Joan Baez (SD12 at FOH operated by Derek Williams and SD11 at monitors via Wigwam Acoustics), James Blake (an SD10 via Skan PA), Rag 'n Bone man (SD7 Quantum on monitors via Entec), George Ezra (SD12 and SD10 via Stylus Producitons), Janelle Monae (SD12) and Rita Ora.
In other festival venues, the Jazz Lab specified two SD5 consoles, two SD-Racks and two SD-Mini Racks; the Jazz Club selected a SD12 with two SD-Racks; Music in the Park chose a SD10 with a SD-Rack; Liszto Club, which included an enhanced artist roster this year, upgraded to a SD12 with SD-Rack. All were enabled with 32-bit mic Pre-Amp and DAC cards. El Mundo opted for the compact SD11 console and accompanying D-Rack; while the La Coupole venue, which hosts training and lectures during the day and jam sessions in the evening, specified a S31 with D2-Rack. Finally, a compact mobile system involving a S21 console and D-Rack, was available for smaller gigs or presentations around the site.
Freelance sound engineer, Tristan Mazire, has been working for the festival for 11 years at the Jazz Café and the Jazz Lab. 'Artistically and technically, Montreux is the best festival I've ever worked at,' he says. 'You are working next to one of the most beautiful lakes in the world, the programme is incredible, and there's the opportunity to collaborate with amazingly talented technicians and artists, such as The Beastie Boys, Royal Blood and Jack White.
'The dream trio of DiGiCo consoles, Meyer Sound speakers and Shure microphones helps each engineer to produce the best possible sound in all venues. For me, the SD5 is the best monitor console available – offering fast entry, multiple layers, macros and a central screen to easily access my output sends. This year, I was really impressed by the sound quality of the new 32-bit I/O cards – the dynamic, the headroom and the extremely low noise level.
'As a monitor engineer, I need to answer musicians' needs as fast as I can, and I really feel I wouldn't be able to make it on any other console. Moreover, DiGiCo is a family, made up of people you can rely on, people that you can call anytime with any question regarding the product. They truly understand our difficult job and they're producing tools that make our life easier, and products that give musicians confidence to push creatively.'
Audio system inventory and logistical support were again supplied by Skynight SA, a diversified audiovisual technology provider with offices in Switzerland and France.