From her early days in Greenwich Village coffee houses to protest gatherings to worldwide arena tours, Joan Baez has been at the heart of the modern folk scene for more than 60 years. Shortly after her Rock And Roll Hall Of Fame induction in 2017, she announced: 'While 2018 will begin my last year of formal, extended touring, 'I'm looking forward to being on the road with a beautiful new album about which I am truly proud. I welcome the opportunity to share this new music as well as long-time favourites with my audiences around the world.'
Sure enough, Baez spent most of 2018 on her Fare Thee Well tour, which now stretches into 2019 with a three-piece band and a new batch of Heil Sound PR35 microphones for vocals. The current leg of the tour kicked off in Europe after rehearsals in Barcelona and winds through North America, returning to Europe at the end of summer.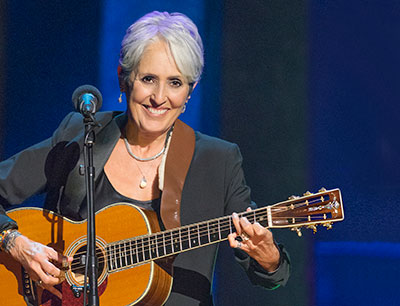 The relationship between Baez and Heil began in 2008: 'Joan happened to sing into our PR30, which isn't a handheld mic, at a rehearsal and loved the sound and asked if a handheld version of it was available,' recalls company founder, Bob Heil. 'Weeks later I came up with a design for the PR35. I credit Joan with giving me that spark of an idea that turned into one of the most successful microphones that Heil Sound makes.'
Jared Herman is mixing both FOH and 'partial' monitors for the touring group, which comprises Dirk Powell on piano, bass guitar, Grace Stumberg on vocals and Gabriel Harris on percussion. Herman controls monitors from FOH on a DiGiCo SD12 for Baez, Stumberg and Powell, Gabriel Harris has his own DiGiCo SD 11 located on stage so that he can control his mix. Veteran sound mixer, Derek Williams will be at the helm beginning in April.
'I find that the PR35 gives me not only the full body of Joan's lower vocal register, but also the sparkling top end air that I find lacking in other live vocal mics,' Herman reports. 'I also found them to have an extremely warm analog sounding quality across all the singers which is nice as I'm working mostly in the digital realm at FOH.'
See also: