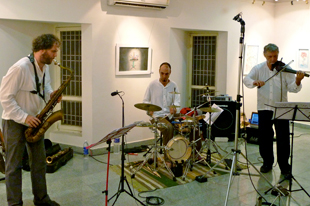 Arriving in Chennai after a 39-hour train ride south from Varanasi, the GE-OS team found themselves recording a concert by experimental music trio OTO.3 in an art gallery at Cholamandel Artists' Village.
Unlike every other musician or ensemble the team had recorded so far, OTO.3 consisted entirely of Western musicians playing Western instruments – Maarten Visser on saxophone, Holger Jetter on electric bass violin and Robbert Van Hulzen on drums. Whatever comfort the team might have taken from the familiarity of the instruments was tempered by OTO.3's stated aim to 'create an experimental music based on sound rather than rhythm, harmony and melody'.
The GE-OS Project update #09
8 January 2011
'I was very excited when our Chennai-based sound engineering friend, Jai Shankar Iyer, announced a concert recording with a trio headed by Maarten Visser', explains team leader Greg Simmons. 'I had recorded Maarten in Chennai two years earlier and knew we were going to be in for something fresh and interesting, if not a little challenging!'
The performance took place in a relatively small space with a low ceiling and smooth, highly reflective surfaces – essentially a boxy reverberation chamber. The initial plan was to capture the trio with a matched pair of DPA 4023 cardioids in an ORTF configuration; this technique was used two years earlier to record another of Maarten's trios and he was very happy with the resulting sound. However, after hearing the boxy reverberation of the venue the team decided against ORTF in favour of a more focused technique with a clearly defined centre image.
In a break from The GE-OS Project's sole use of DPA microphones, a Schoeps MS rig was selected as the main stereo pair along with a DPA 4023 compact cardioid spotting the saxophone and a DI feed from the electric bass violin. This approach allowed the MS pair to be placed very close to the drum kit, essentially turning it into a stereo drum microphone that also captured some ambience from the saxophone and electric bass violin without being flooded with room sound. Carefully mixing the saxophone's spot mic and the electric bass violin's DI into the MS pair produced a very acceptable recording.
By the time the concert started the small gallery had filled to standing room only, and the boxy reverberation of the room was almost completely absorbed. 'I knew the reverberation would be less with an audience, but I didn't expect it to vanish!' said Simmons. 'I have little doubt that the initial plan to use an ORTF pair would've done a fine job, but I wasn't prepared to take that risk when setting up the recording.'
About The GE-OS Project
Founded by Greg Simmons in 2008, The GE-OS Project takes audio students and other interested parties on international recording expeditions to capture the sounds and music of different countries and cultures. The goal is to make the highest quality recordings under the circumstances, with an emphasis on the educational aspects of recording on location.
'GE-OS' is an acronym for 'Guerrilla Ethnomusicology – Open Source', a reflection of the recording philosophies and dissemination methods used by the project. The recordings fall into three broad categories: direct-to-stereo ethnographic recordings of traditional music performed in traditional contexts, multitrack recordings of local musicians improvising over backing tracks, and phonographic recordings of city sounds, village sounds and nature sounds. On completion of the project, all recordings will be placed on line for anyone to access and use under the terms of a Creative Commons licensing scheme.
The GE-OS Project is currently undertaking its third extended recording expedition and gratefully acknowledges the ongoing support of Amber Technology, DPA Microphones and TC Electronic