The Grand Ole Opry has opened a second venue in New York City's Times Square. Connecting the Nashville and Times Square venues is a Dante network infrastructure using Focusrite's RedNet range of Dante-networked audio converters and interfaces. Also key to the technical infrastructure was the cabling provided by the Malvicino Design Group.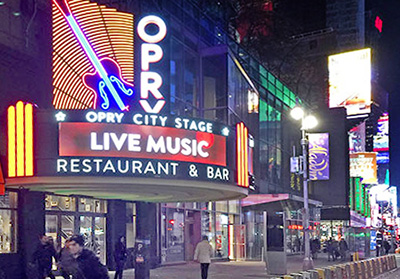 The new Opry City Stage is a four-level, 28,000sq-ft complex that offers NYC visitors a chance to watch top acts and local bands, as well as Nashville Opry performances remotely. On the second and third floor is a two-storey restaurant, bar and performance stage. The fourth floor is The Studio at Opry City Stage.
The hub of connectivity is actually two blocks away at a broadcast control room at Brighten Entertainment (owned by Sturm Asset Management, the owners of landmark entertainment and dining properties including Ellen's Stardust Diner and jazz club Iridium, as well as the managing partner in the Opry City Stage venture). Here, a number of RedNet units create a seamless Audio-over-IP network that brings live music back and forth between the two Opry cities.
The sound and audio-networking systems were designed and installed by Gastfield and Lance McVickar (resident broadcast engineer), along with Brad Fuss and Ken Strum, owners and operators of Brighten Entertainment.
'RedNet lets us capture the multichannel audio in both directions at venues,' Billy Gastfield, Opry City Stage Production Manager, Technical Director and Lead Audio Engineer says. 'Using the RedNet MP8R units, we can have complete control over the mic pre's remotely from two blocks away, which offers us tremendous flexibility.'
He points out that the company looked at a number of possible platforms for their network connectivity needs, and found that the RedNet system offered what he said was the most cost-effective solution: 'How else could you get 48 channels of Focusrite mic channels this affordably with the level of control that the MP8R gives you?' he asks. 'I've had a lot of experience with Focusrite mic preamps and there is nothing like them. We can get the kind of vocal and acoustic-instrument sounds that country and bluegrass demand with them. Plus, the entire AoIP network that we built with RedNet is completely modular, so it's easy to increase channel counts if we need to. And everything is compatible with Dante, so the network is all plug-and-play. The workflow is easy and reliable. Considering we're moving music between two cities and from some of the best music venues in the world, we're trusting RedNet to make sure that it sounds great and always works as we need it to, every time.'
'I was in charge of integration for all the audio,' says Horacio Malvicino, of the Malvicino Design Group. 'We installed two PA systems, one downstairs and another on the fourth floor. All the wiring is with Sommer Cable for consoles, monitors and the backline with guitar amps.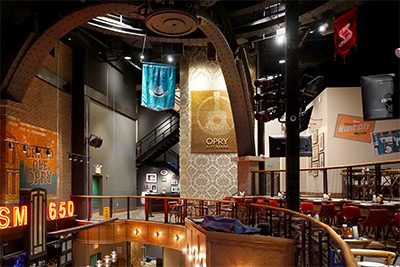 'Both stages are connected to a central machine room where we keep all the amplifiers for the two systems, the computers and the broadcast facility. Both have huge screens connected to Nashville, so they are able to either broadcast the show from New York into Nashville, or if the Gran Ole Opry has a live show in Nashville, it can be broadcast live on the screen in NYC.'
'We ran Sommer multi-pair cables from the stage to the consoles and to all the interface panels, with tielines between all the rooms on the third floor, the fourth floor, and the broadcast centre,' Malvicino continues. 'It's passive, so every single box from every stage had to be routed to a central machine room where the amps are. We have one room that handles all the amps, from both locations. We also used 16-pair cables for fall back. It's a very complicated installation because we had very long runs from several points to one central location.
'My approach was a little different from a regular PA installation because I wanted to bring a little bit of recording studio flexibility. Each I/O rack on the stage has tieline panels, which are also made by Sommer with Sommer connectors so you can cross match XLRs between rooms and you can cross match monitor systems from one room to another room.'
The Malvicino Design Group specialises in recording studio architecture, custom acoustics, and manufacturing of audio products, and has wired, integrated and commissioned in excess of 500 studios to date. Horacio Malvicino, who holds a degree in Electrical Engineering, chose to use Sommer MC-Mistral analogue/digital combo cable for the Opry project.
Because of the cable's accurate capacitance, high transmission quality is assured over long distances. The wire pairs of Sommer's Mistral cable have a pre-twisted drain wire and another shielding made from AL/PT compound foil. For added protection against corrosion and oxidation, both the conductors and the drain wire are tinned. The returns on the cable splices are easily recognizable by the colour coding on the conductor pairs.
'In my regular environment, which is the recording studio, there is always time for a new take and there's always a new session,' Malvicino says. 'Hut here at the Opry Stage, everything has to be up and running at any time. And we're putting the systems through very long hours because downstairs the main system is some days operating between 8 am for breakfast until 2 o'clock the next morning. You must make sure that everything works, that everything's flawless and reliable.'
Malvicino used Sommer's Mistral cable through much of the installation: 'Mistral cable is very good to run through conduits, and we have conduits between the console, the mix position, and the stage. There is a hundred and twenty feet of conduit buried under the ground and you have to have pull lines for that distance. Sommer cable is very flexible and we pull four or five cables through the same conduit, and we pull hard using lubricant. Before we start making all the connections, we test continuity throughout. With other brands we used before Sommer, when we pulled really hard there was usually some damage. With Sommer, we tested all of the continuity before connecting and every single cable was operating perfectly, which is amazing. We have tons of lines, so the Sommer cable is really tough and reliable.'