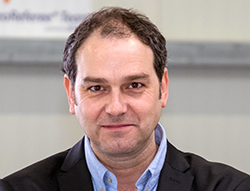 David Lois has been appointed as Sales Manager for Broadcast Products with German systems integrator, Broadcast Solutions.
With the appointment, the company aims to increase its market share of products within its existing Broadcast Products portfolio and, as part of an ongoing process, to bring new products to the division. The long-term goal is to establish Broadcast Solutions as a full-service broadcast solutions provider.
In order to take care for the increasing demand for and number of products and to further foster the division Lois will take care of all sales, reporting directly to Product Sales Director, Antti Laurila.