Martin Carrier has been appointed President of Solotech's Live Productions Division in Canada.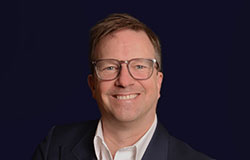 'I'm pleased to welcome an exceptional leader who will play a key role on our management team thanks to his extensive experience in the entertainment industry,' says Martin Tremblay, President and CEO of Solotech. 'Martin Carrier is a visionary who, along with his team, will drive the Live Productions business in Canada within a large-scale market.'
Carrier has more than 25 years' experience in senior management roles in a variety of industries, including video games, television and film production, and technology. He joins Solotech from MELS Studios & Postproduction, where he served as President. Previously, he held executive positions at companies such as Frima Studio, Warner Bros Games and Ubisoft.
'I'm honoured to join a leading company in audiovisual and entertainment technology,' Carrier says. 'I'm looking forward to taking the helm of a renowned team that rolls out more than 5,000 live production projects each year
Carrier is known for his leadership as well as his focus on business growth, technological innovation and customer service excellence. Effective 24 April 2023, he will take on the leadership of overall activities related to tours, festivals and local live productions events in Canada. His mission will be to spearhead the country's operations and business development activities, and to ensure that Solotech remains an industry leader.
Heholds a bachelor's degree in Political Science and an Executive MBA from McGill-HEC Montréal, and is also involved in the industry as a board member, notably as President of the Digital Alliance.
Martin Chouinard, who previously held this position, will continue with Solotech in a new strategic role of Chief Global Operations and Asset Officer.
This new appointment is in line with Solotech's strategic plan for accelerated growth as it expands across Canada and around the world.
More: www.solotech.com