In-ear monitor systems specialist Clear Tune Monitors (CTM) has appointed Jeffery Fowler to the position of Vice President of Global Sales & Marketing, responsible for growing the Florida-based company's sales and marketing efforts worldwide.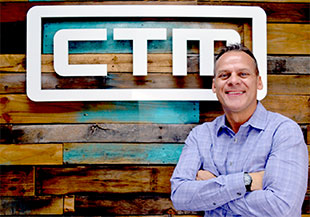 Fowler comes to CTM with over 20 years' experience at the manufacturer level and a diverse resumé from vertical markets including MI, professional A/V and consumer audio. Most recently, he was Sales Director at Westone Audio where he managed key domestic and international distribution partnerships. Prior to Westone Audio he held senior management positions with Roland Corporation, Native Instruments and Harman Professional.
Fowler received his Bachelor's Degree in Voice from the University of Colorado in 1995 where he was a part of the opera programme.
'I've been a part of the music products industry for a couple of decades now, and have seen our industry go through peaks and valleys,' Fowler says. 'I've learned that as important as amazing products are, it's about people. We are in one of the few remaining industries where there is a genuine feeling of family. I noticed that feeling right off the bat when I entered the CTM building and met everyone for the first time. Clear Tune Monitors produces IEM products that are in use worldwide by top artists, performers and production teams, and I'm glad to be part of it.'