Juliana Tong has taken on the role of Marketing Director for d&b audiotechnik in the Asia-Pacific (APAC) region to 'nurture existing partners and identify new enduring partnerships'. In this capacity, she will work with d&b's Global Marketing team, reporting to d&b APAC CEO, Anand Narayanan.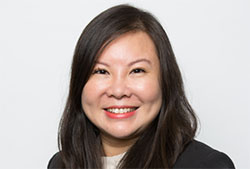 Tong joins d&b audiotechnik from Christie Digital Systems, and brings experience from 20 years in professional audiovisual industry PR, marketing and media.
'I love working in the pro audio visual industry and I am grateful to have met a wide range of pioneers and innovators,' she says. 'I join d&b with a strong desire to be at the forefront of the emerging immersive audio trend, and look forward to working with the d&b family to introduce our portfolio audio technology system solutions to the APAC region.'
'Juliana has an amazing marketing track record in the pro audiovisual industry, and I'm certain that her experience can help us further grow our brand in this part of the world,' adds Narayanan.
More: www.dbaudio.com