d&b audiotechnik has appointed Kirsty Lamport as Marketing Manager, EMEA. Joining a well-established d& EMEA team, she will work with Head of the EMEA region, Phill Coe, and the wider global marketing team.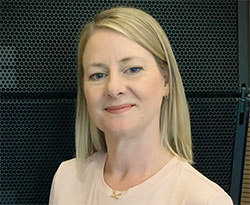 Lamport has more than 15 years' marketing experience, andhas held senior positions at Shure UK, most recently as Head of Marketing UK & Pro Audio EMEA.She will be based in the UK and will focus on the continued development of d&b's marketing strategy across EMEA, supporting the established d&b partner and distribution networks to further expand reach and demand both in mobile and installation segments.
Lamport's appointment to the EMEA management team is expected to bring additional international experience and a greater depth of EMEA expertise to support d&b with its post pandemic growth.
'In my role as marketing manager, I will endeavour to maintain and build on the leadership position that d&b has established in the mobile and install markets in EMEA,' Lamport says. 'd&b is recognised in the wider industry for offering expert, high-quality audio solutions, and I will be focusing on expanding on the huge potential of flagship products such as Soundscape and the SL-Series line arrays, as well as forthcoming innovative d&b solutions. With many markets back to their 2019 level, we have ambitious strategic growth plans, which I am eager to help drive forward.'
More: www.dbaudio.com