Rupert Neve Designs has appointed Luke Smith to the newly created position of Product Manager.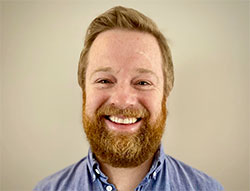 After several years spent in bands and recording studios, Smith's pro audio career began in NYC as a Sales Associate for Euphonix, where he led a small team to launch a successful product line. Following his time with Euphonix and then Avid, Smith secured a role with Waves Audio, where he again helped launch an entirely new product line in the course of his duties as North American Sales Manager.
After six years with Waves, Smith joined PMC Speakers, where he helped to forge new market segments, provided comprehensive customer support, and developed new skills related to room tuning and studio acoustics.
'Luke's experience ranges from analogue to digital, mono to Atmos, live sound to studios to postproduction,' says Josh Thomas, company co-founder and General Manager. 'He is the ideal candidate to help Rupert Neve Designs define new families of products with the tools, functions and features that allow musicians, engineers and producers to achieve their sonic goals with the unparalleled sonic excellence for which we're known.'
'The opportunity before me with Rupert Neve Designs is both daunting and incredibly exciting,' Smith says. 'There is much to honour and respect about this role, and I can't wait to see what we can all accomplish working together. I'm just thrilled to be a part of it.'
'Our company's reputation is built on great products, but also on great people,' adds, Rupert Neve Designs Brand Manager, Chris Dauray. 'I've known Luke for nearly 15 years, and both his personality and breadth of experience will be great additions to our team. We're very excited to welcome him onboard.'
More: https://rupertneve.com