Belgian installation and touring loudspeaker manufacturer, AudioFocus has announced two additions to its senior international sales team.
Håkan Sjöö has been appointed to the position of EMEA Sales Manager, with responsibility for developing and expanding the brand's distribution partnerships. Luc Haubursin has also joined the AudioFocus team as Commercial Business Development Manager, with a focus on sales growth in Africa and the Benelux countries.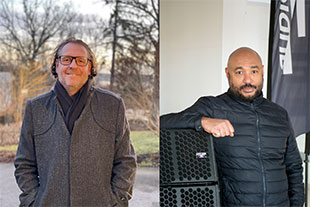 Sjöö brings a wealth of high-level international sales experience with iconic pro audio brands including Powersoft, Renkus-Heinz, and Holoplot, while Haubursin has a proven track record in the professional A/V industry, with business development experience at Chauvet Europe and with AED Distribution.
'We are delighted to welcome Håkan and Luc to the AudioFocus family,' says MD, Ann Leroy. 'As part of our AudioFocus 2.0 journey, we are investing heavily in pioneering new products and technologies. Håkan and Luc's knowledge and energy will play a key role in growing the strong, proactive distribution partnerships that will translate our R&D and manufacturing innovations into sustainable business growth.'
'This is an exciting time to join AudioFocus,' Sjöö adds. 'I look forward to supporting our international partners with the rollout of new products coming through the R&D pipeline. We also have a fantastic opportunity to build new partnerships and extend first class on-the-ground representation and support to many more territories.'
'AudioFocus is proud to manufacture all of our speakers right here in Belgium and the team enjoys many connections with the pro audio and integrator communities in the region,' offers Haubursin. 'Alongside supporting the growth of our global business, I will be ensuring that customers in our 'home' territories of Belgium, The Netherlands and Luxembourg have a great experience with our products and backup.'
More: www.audiofocus.eu