Solotech UK has appointed Rich Rowley to the role of General Manager for its Redditch facility, reporting to UK MD Bryce Jewell.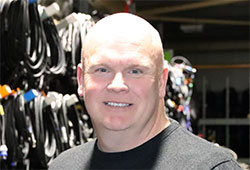 Rowley joins Solotech with 30 years' experience in live production to oversee Solotech's supporting operations in Live Production and Sales & Systems Integration for SSE Audio, Wigwam, Capital Sound and BCS Audio.
Rowley previously held roles as Director at XL Video and as Chief Sales Officer for PRG in the UK. Most recently, he was General Manager at Adlib, where he helped oversee the company's transition from an audio supplier to a full 360 audio, lighting and video service provider.
Rowley is no stranger to the Solotech family, having been Hire Manager in Redditch for SSE Audio between 2004 and 2006. During his time at SSE, he worked on many projects and designs, including Oasis, Metallica and the main stages for the Download, Reading/Leeds and Glastonbury festivals.
'The General Manager role at our UK headquarters is pivotal in ensuring the delivery of all our business, both in live productions and sales and systems integration,' says MD, Bryce Jewell. 'We're delighted to have secured someone with Rich's knowledge and experience. We are confident he will be able to support what will be an incredibly busy time for our core business in the coming months while planning for the ongoing expansion of Solotech in the UK.'
'The UK brands already have a fantastic reputation and with the support of Solotech globally we can take the business to the next level,' Rowley adds. 'I'm excited to have the opportunity to play my part in that journey at such an exciting time. It's great to be returning to Redditch and I'm looking forward to working with some old friends and making some new ones too.'
More : www.solotech.com