James Baker has joined SSE Audio in the role of Live Sound Specialist on the UK Sales team. The position has been created to ensure SSE Audio and Wigwam maintain high levels of customer service.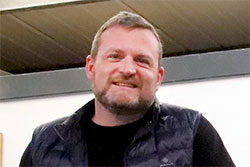 In this new post, Baker will support SSE Audio and Manchester-based Wigwam's live sound Sales customers. Working alongside a team of technical experts and service providers, he will develop marketing strategies that promote the groups' services for the live sound market. He will also help identify new routes to market while solidifying the company's position.
Baker joins the company during the return of the UK live events industry post-pandemic, which is seeing an extremely busy summer festival season. Wigwam and SSE are part of the Solotech UK Group, along with Capital Sound and BCS Audio, which together forms the largest pro audio hire, sales and systems integration company in the UK and a significant global player in the A/V and live entertainment markets.
During a 25-year career as a freelance sound engineer working with Nile Rogers and Chic, Chase and Status, Girls Aloud, Kim Wilde and Gilbert O'Sullivan, he has become well-known and respected in the pro audio industry. This is in addition to his role as a Live Sound Sales Manager for Avid Technology, where he was instrumental in bringing the S6L range of consoles to the marketplace. With the global pandemic bringing about a restructure at Avid, the time was right for a new challenge at SSE Audio.
'We know that our core market for sales is the live production market, and we are looking to improve the service we give to our customers,' says UK Group Sales Manager, Ryan Thomas. 'James has hands-on experience using much of the kit in the live environment, which will be invaluable when advising customers on product selection.'
SSE and Wigwam are supplying the UK's major festivals this summer, including Reading Festival, Leeds Festival, Parklife and Isle of Wight. Due to the high demand of pro audio equipment and services needed, many of the companies' staff have returned from furlough to support the events.
'I've worked as freelancer with SSE in the past, so I know the culture and their core values,' Baker says. 'I'm really looking forward to playing my role in the company's post-pandemic recovery and sharing some of my experience to help our customers.'
More: www.solotech.com