TSL Products has appointed Berny Carpenter as new Audio Product Manager to 'continue the brand's tradition of developing innovative broadcast solutions and bringing new audio products to market'.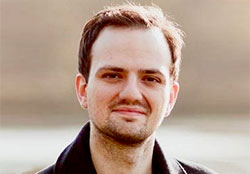 Carpenter has previously roles at Dolby Laboratories, NEP Group, Calrec Audio and most recently as Broadcast Product Specialist at Solid State Logic. He has considerable experience in Audio-over-IP and implementing IP infrastructures, including participation at industry interoperability events. A keen audio engineer and musician, Carpenter is a graduate of the University of Surrey's Tonmeister course.
'Berny Carpenter joins us at an exciting time, as our R&D team delivers an advanced technology platform that will see a multitude of new products launches over the coming 12 months,' says TSL Products MD, Chris Exelby. 'The new platform will provide us with the granular functionality that will help us meet and exceed the challenges presented by Covid-accelerated changes to customer workflows.
'Coming at the same time as new developments in our Power and Control products, we are entering a period of significant activity as we bring them all to market, so we are thrilled that Berny, with his end-customer experience and deep technical knowledge, has agreed to join us.''
'I look forward to driving the evolution of the company's broadcast audio solutions using the advanced functionality that the new platform offers to deliver the innovative solutions that TSL Products is renowned for,' he says.
More: www.tslproducts.com