Sean Martin has joined the Audio Engineering Society staff as AES International Sales Manager, at a time when the audio industry recovery begins to progress towards post-pandemic activity and alongside the Society's commitment to build up the success and value of its online events.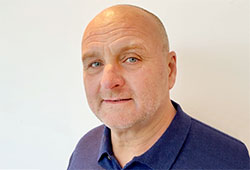 Reporting to AES Director of Sales & Marketing Graham Kirk, Martin will be responsible for event sales, Sustaining Memberships, AES' Audio Product Education Institute (APEI) sponsorships, E-Library subscriptions and working with AES Standards Sustainers.
'Sean has a phenomenal background in professional audio, ideally suiting him to this new position,' says Kirk. 'Given his proven record of success and his stature in the industry, we are confident that the Society, our industry partners and the industry as a whole will benefit from Sean's joining the AES team.'
Beginning his career with London's Court Acoustics – co-owned by AES member Stephen Court and Pink Floyd drummer Nick Mason – Martin's first interaction with the AES began demonstrating Court sound systems at an AES Convention in Montreux. Now, a number of years later and following international sales and business development roles with professional audio manufacturers such as JBL, Tannoy, EAW, Bose and Turbosound, he is bringing his decades of sales management experience to the Society.
'Throughout my career I've seen the ubiquitous impact of the Audio Engineering Society's rich legacy of driving audio technology forward while providing a foundation of standards that benefit audio professionals globally, daily,' Martin says. 'I'm delighted to join the team as a bridge between the Society and its corporate sponsors as we work together to inform and educate audio pros, to further advance the science and practice of audio, and to build a stronger industry.'
More: www.aes.org