United Recording has named Bill Smith as Chief Archiving Engineer for its United Archiving division.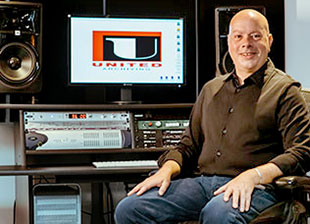 With 35 years in the industry, Smith has almost unrivalled experience in caring for, reviving, reconditioning and restoring audio assets, as well as with computer-based data tape systems. United Archiving regards depth of knowledge and hands-on approach as key to being considered one of the top facilities in the world for audio archiving, restoration and asset management.
Smith began his career as a recording engineer in New York City in 1985, working at The Hit Factory, Quad Recording and Todd Rundgren's Secret Sound Studios. Moving to Los Angeles in 1990, he secured a staff engineer position at Capitol Studios where he remained for several years before transitioning into freelance work. During these years he worked on Grammy-winning and Grammy-nominated albums for Barbra Streisand, John Fogerty, Natalie Cole, George Benson, Trevor Horn, The Manhattan Transfer, Diana Krall, Toto, Queen Latifah, Arturo Sandoval, Chris Botti, Al Jarreau and many other top-selling artists.
Smith also spent 11 years working as the personal recording assistant, co-engineer, and Pro Tools operator alongside 23-time Grammy-winning recording engineer/producer Al Schmitt.
'Bill is one of my dearest friends, we have worked together for 28 years and United is truly lucky to have a man of his integrity, competency, technical skill and background heading their Archiving department,' Schmitt says. 'His attention to detail is incredible and he has such extensive experience with all recording formats that I would trust him completely with every aspect of any archiving project.'
In addition to an extensive collection of vintage analogue and digital equipment, United Archiving also offers high-level security, climate-controlled tape storage, analogue tape baking, dedicated electrical power, custom anti-static flooring and in-house technicians who maintain all equipment to the highest possible operational standards.
From deteriorating analogue tape to outdated digital media, United renders recording viable and available for future use and repurposing. From transfers done at the highest digital resolution and quality available, to cataloguing with current metadata tags, this affords the clients the confidence and reassurance that their assets are secure and readily accessible.
More: www.unitedarchiving.com