Atlona has promoted Thorsten Goecke to Director of Sales for Europe, the Middle East and Africa (EMEA).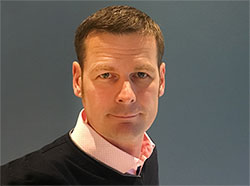 In-line with Atlona's growing sales presence and partner network worldwide, Goecke will work with his EMEA regional sales managers (RSMs) to 'boost demand, sales and brand awareness' for Atlona's AV-over-IP distribution, connectivity, and control solutions for commercial and residential applications.
Prior to joining Atlona, Goecke served as Director of EMEA Sales for Icron Technologies, a manufacturer of high-performance video and USB extension solutions. He also served as Managing Director of Gefen Distribution and Sales Director for AV Connectivity products at SDI GmbH.
He came to Atlona in 2014 with an initial focus on the DACH (Germany, Austria, Switzerland) market, and later assumed responsibilities for Eastern Europe, Scandinavia, and parts of Russia and Africa. He subsequently played an instrumental role in developing the UK market, including the management of UK distribution partners and channels.
Goecke has since been instrumental in the implementation of Atlona's shift to a 'solutions-orientated' sales approach in the DACH region, and is responsible for many of the company's largest AV-over-IP and networked control installations in Europe. He is now working with top management at Atlona and parent company Panduit to develop a unified brand message and go-to-market strategy, enabling EMEA RSMs to effectively compete for new business based upon a robust value proposition for AV and IT convergence.
Capitalising on Panduit's dominance in the IT and network infrastructure market, Goecke's EMEA sales team intends to deliver targeted solutions for design consultants, planners, and systems integrators to consider as early in their end-customers' project timelines as possible to maximize sales opportunities.
'Thorsten brings a wealth of knowledge and experience to his new role around the unique sales and marketing challenges inherent to the EMEA region, including an expansive geography and broad cultural diversity,' says Atlona CEO, Ilya Khayn. 'His exceptional interpersonal skills and technical expertise brings value to both his EMEA team and large customer base that will only enhance Atlona's global success.'
'I'm enthusiastic about this next chapter in my career at the helm of Atlona's sales efforts across the vast EMEA region,' Goecke says. 'Considering the breadth of our solutions portfolio, and the inclusion of cutting-edge capabilities like USB-C connectivity, Atlona is especially well-positioned to deliver competitive solutions to today's AV/IT customers and their demanding commercial and residential installations.'
Based in Munich, Germany, Goecke reports to Ralph J Lolies, EMEA SVP/MD for parent company, Panduit.
More: https://atlona.com