Sanak Pandit has joined the team at Singapore-based start-up Generation AV as Applications Engineer. The company represents Martin Audio in the APAC countries.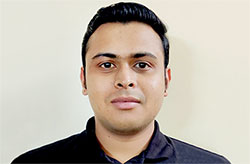 Based in Bangalore, Sanak has been working in audio since he was 14, having completed his studies in the Bangalore School of Audio under the training of Vishnu Pandit, one of the most respected technical experts in the Touring & Rental market in India. In addition to working with his family companies of V&P Sound and SD Audio, Sanak also served as a freelance sound engineer for a number of Indian artists.
Trained and certified in most of the industry leading advanced networking platforms, in recent years Sanak has led many training courses from the Basics of Audio through to System Design, Measurement and Optimisation for many rental companies and engineers in India.
'Sanak has the technical abilities to support all the brands in Generation AV and I believe will be a great asset to our business in Asia,' says Generation AV founder David McKinney. 'With his strong background in the touring market he is able to hit the ground running.'
'Following the appointment of Generation AV, it is reassuring to know that Martin Audio sales support in the APAC territories is in such safe hands with the appointment of Sanak,' says Martin Audio MD, Dom Harter. 'This is a developing region for us and it is vital that our customers know they have such an advanced level of on-the-ground backup.'
More: https://generationav.net