Riedel Communications has appointed Daniel Bakies as Project Manager for its US system consulting team, where he will 'work to ensure the smooth rollout of large-scale, multifaceted projects based on Riedel's line of real-time video, audio, data, and communications networks'.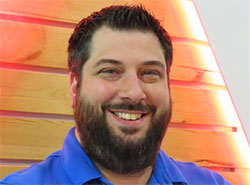 Prior to joining Riedel, Bakies served as Production Operations/Systems Engineer for Azusa Pacific University in Azusa, California, where he was responsible for the design, installation, and implementation of all of the university's production systems. Other previous positions include Project Manager for McNally Enterprises, where he served as an on-site project leader for numerous high-profile events and Technical Director for Christ's Church of the Valley, where he managed production of weekend worship services for up to 8,500 church members as well as special events for up to 12,000 attendees.
Bakies has completed coursework in computer science and networking at Azusa Pacific University, and he also studied website design and multimedia authoring at Naugatuck Valley Community College. In his new role, he reports to Rick Seegull, Manager, System Consulting, for Riedel North America.
'Dan is a great choice for this important new role,' Seegull says. 'He brings a strong background in our MediorNet real-time network and Artist digital matrix intercom platform through his time as at Azusa Pacific University. His production background for large churches is another big plus, since houses of worship represent a large and growing market for Riedel in North America. Dan's energy, project management expertise and technology know-how will be big assets as we take on large, high-visibility events and other projects leveraging our technologies.'
More: www.riedel.net