Powersoft has recruited Raymond Tee as APAC Application Engineer.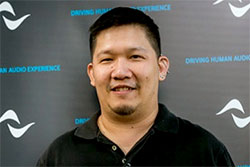 Reporting to Powersoft's global business development manager for fixed install and application engineering manager, rack amplifiers, Marc Kocks, Tee's primary duties will be to support Powersoft's distribution networks and end users in the region, enabling them to get the most out of the company's products, as well as providing training and support for control software platform, ArmoníaPlus.
Raymond has proven to be a perfect fit thanks to his work as application engineer for other manufacturers, as well as his experience with local Malaysian companies,' Kocks says. 'The APAC region is a very important one for Powersoft, with many established and emerging markets, and this appointment strengthens the team even further.'
Tee brings a wide range of experience in live sound and fixed install application. After being chosen for the role, he undertook an intensive training period at the Powersoft headquarters in Scandicci, Italy, and he has been conducting training sessions with end users and distributors in the APAC region since.
'At Powersoft, we are investing heavily in enlarging our application engineering team,' Kocks says. 'We want to help customers getting back the value they paid for our products, and we put in place a global team available 24 hours-a-day to assist end users, consultants, system integrators, rental companies and distributors with design support, training and integration of our products.'
'The technology inside Powersoft amplifiers has always impressed me,' says Tee. 'I first came across Powersoft in early 2000s when I was working in Malaysia as a system engineer. Back then, we were used to very chunky amplifiers, and to see a unit so compact able to deliver such power without compromising the audio quality was simply mind-blowing. When I discovered that I was going to be able to work for such a company, I was ecstatic.
'All of the people I met during my time in Italy were very professional and proud to be part of the Powersoft family. Throughout my career working with various companies, I've realised it's a very rare thing to rub shoulders with the founder of the company. At Powersoft, I've been able to experience just that. To see the founders of a company that I've so admired still hard at work is a real privilege.'
More: www.powersoft-audio.com