Christian Orcin has been appointed Managing Director of d&b audiotechnik Spain, responsible for sales and marketing, and overseeing service and support for regional customers and sales partners.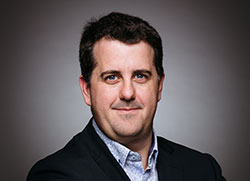 Orcin says, 'My role will be to maintain the leadership d&b has established in the Spanish mobile/rental market,' he clarifies. 'The brand's potential for growth in the fixed installation market is huge so developing our install partner network will also be a major focus. I'm inspired by the opportunity to implement this ambitious growth strategy and I'm eager to work with the team in Spain and around the world.
'With key audio technology innovations like the d&b Soundscape, and products like the SL-Series family of line arrays, the engineers in Germany are setting the global brand apart in the market. As custodians of the d&b brand in Spain we are responsible for delivering sales, service and support to match that international promise.'
An electroacoustic engineer, Orcin has spent the past 20 years in the pro audio and AV industries, acquiring a strong track record in customer support and an extensive knowledge of the Spanish A/V market. Orcin joins d&b from his most recent roles as Vice President of Sales and Product Marketing EMEA for Leyard Optoelectronic, having held former positions in visual media at EARPRO and Panasonic. He has an MBA, a degree in industrial electronic engineering and speaks Spanish, Catalan, English and French.
'Spain has long been an important market for d&b, which is why we established a subsidiary there in 2011,' says d&b EMEA Territory Manager, Phill Coe. 'Today, not only is our mobile and installation business growing in Spain, the influence of local specifiers and integrators is also increasing internationally, and this is something we intend to take full advantage of. We have great confidence that Christian is the right person to lead d&b Spain into this significant period of growth.'
Orcin joins a team already well respected for its Education and Application Support (EAS) department, and service programme. Headquartered in Barcelona, d&b Spain is one of nine d&b subsidiaries around the globe.
More: www.dbaudio.com