Former Mode Machines CEO Michael Thorpe has joined Behringer to lead its German synthesiser, lighting and accessory divisions as Customer Solutions Leader (CSL).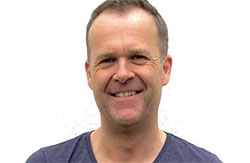 Thorpe has been in the audio industry since 1996, and successfully ran his own company, Mode Machines, which designed and manufactured products for the music industry. During more than 20 years Michael gained tremendous experience in product design, manufacturing, and also marketing, which he will now bring to Behringer.
'For decades, my passion has been with synthesisers, as well as the music industry in general, and in February 2018 I had the chance to meet Uli Behringer,' Thorpe says. 'I was immediately inspired by the vision and energy behind the company and the man, and it became clear that I wanted to join the team and help execute this vision which is so close to my heart.'
'For 30 years, Behringer has had only one mission – to carefully listen to our customers and deliver great products at prices they can afford,' says Uli Behringer. 'As a musician and engineer myself, my passion has always been with synthesisers. At Behringer, we are extremely dedicated and passionate about bringing incredible instruments to the market and helping musicians to fulfill their musical dreams.
'We are on the constant lookout for amazing talent and, when I met Michael Thorpe, I was greatly impressed by his tremendous experience and love for the industry. I am very happy for Michael to lead our German synthesiser team, whose purpose is to design classic as well as innovative new analogue synthesisers, drum machines, and sequencers, etc. He will also lead our recently-founded lighting and accessory divisions, where we will deliver equally-innovative and extremely cost-effective products and solutions.'
More: www.musictribe.com