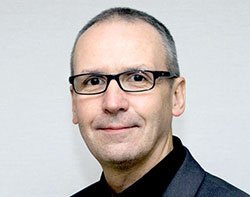 UK broadcast systems distributor Aspen Media has appointed Anthony Wilkins to the newly created position of Sales Manager.
Wilkins counts more than 30 years' experience in the audio industry, previously having held positions with Sony, DTS, Linear Acoustic, RTW, Jünger Audio and Trinnov Audio. He is a member of the AES, the IEEE and the EBU P/Loud group.
'It's no secret that our industry has faced a number of challenges in recent years, and other uncertainties look set to continue for some time yet,' says Aspen Media Director, Chris Collings. 'Nonetheless, Aspen Media intends to generate its own upturn, investing for the expected growth from new suppliers, products and platforms starting with the recently launched modular AoiP and Madi converters from DirectOut.
'In particular, increasing adoption of IP- and Cloud-based services demands flexibility and agility to meet evolving customer requirements, and Anthony's strong background in all technical, marketing and sales of the pro audio and broadcast industry will be invaluable as we expand our presence, and the profile of new and current products.'
'It's an exciting time to be joining Aspen Media, as the company embarks on a plan to grow and diversify,' Wilkins agrees. 'The opportunities to develop business with existing and new suppliers are huge and I look forward to working with a great team and to building further on Aspen Media's already impressive success.'
More: www.aspen-media.com