Powersoft has appointed Thiago Terra as Application Engineer (Rack Amps), providing 'a bridge between the market and Powersoft's product development unit in order to keep the company at the cutting edge of amplifier solutions'.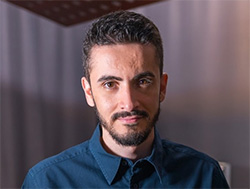 Reporting to Fabrizio Romano Bolzoni, Terra is based at the company's headquarters in Scandicci where he will work with the R&D team, but his role will also see him travelling to conduct training and seminars and to support other engineers, as well as visiting distributors, customers and trade shows.
Originally from Brazil, Terra has lived in Italy since 2000 and is a native Portuguese and Italian speaker, as well as fluent in Spanish and English. As a sound engineer and musician, he has mixed, mastered and worked on tours as FOH and system engineer for many well-known artists and at some of the most renowned festivals in Europe. He has projects released by Universal Music Italia, Som Livre, Universal Music Brasil, Rede Globo, as well as with independent labels, local and international artists and producers. He has also worked on events for brands such as Ferrari, Nike and Santander.
He graduated from the SAE Institute in Milan and is a certified Instructor of Music Technologies at the Italian Institute of Music Technologies and MidiWare Educational in Rome, and also owns WoC Studios.
'Thiago brings more than a decade of experience in sound engineering and lots of new ideas thanks to his interesting background with exposure to so many sides of the professional A/V scene,' says Fabrizio Romano Bolzoni, sales manager (Rack Amps) at Powersoft. 'With him onboard, our customers stand to gain excellent support for day-to-day activities, in addition to coaching for their internal staff and end-users, plus the opportunity to share their feedback with him to enhance our future product line.
'The position of application engineer is key to the growth of our business,' he continues. 'It is a crucial role – both internally, where they constantly provide feedback to the research and development team which helps to develop current and future products; and externally, where they interface with our customers on all technical aspects of our products and systems. This constant presence in the market, supporting customers and end users, is central to our strategy of being an exceptional end-to-end partner.
'With a stellar reputation in the professional A/V market, Powersoft products are well known to me having spent 15 years using them in my work as a sound engineer,' Terra replies. 'Powersoft amplifiers are the worldwide reference – whether it be in terms of sound quality, weight, space or the functions and flexibility enabled by the technology they have developed and embedded in the products. With a focus on constant research and development – they clearly stand out from the competition. I'm looking forward to bringing my experience in the field, together with my professionalism and passion for sound to the role – and extending Powersoft's reach further still as part of this fantastic team.'
More: www.powersoft-audio.com