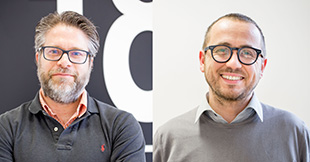 Now operating with its new ownership, Eighteen Sound has promoted Francesco Spapperi, who has been the Controller at B&C Speakers for most of the past decade, to the position of company CEO. The Eighteen Sound sales team has also expanded to include OEM Sales Director, Matteo Bianchini.
'Francesco will help to manage many of the day-to-day financial and operational details in Reggio-Emilia, with support from the rest of our management group', says B&C Speakers Group CEO Lorenzo Coppini. 'He has been an important part of our success in recentyears. He understands our business very well, and will be a strong asset to the Eighteen Sound team.
Bianchini has spent the past ten years in the professional power amplifier module business, and joins Eighteen Sound with a respected level of industry knowledge and connections.
'Matteo clearly understands and cares for every person that he works with,' says Eighteen Sound Distribution Sales Director, Paola Riccò. 'We are quite happy to have Matteo as part of our team. He has fitted in very quickly.'
Eighteen Sound continues to reshape itself, with management making a clear commitment to the culture and heritage of the brand. Necessary resources have also started to flow in the factory and product development departments.
More: www.eighteensound.com