Sebastian Schmidt has returned to Stage Tec, joining the sales team to oversee radio and television customer service for Germany. 'Sebastian has been familiar with our products for more than 20 years, and has been instrumental in their development,' says Alexander Nemes, Head of Sales at Stage Tec. 'Our customers in broadcasting will benefit from his customer focus and extensive industry knowledge.'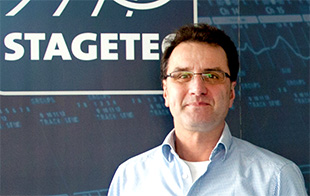 Schmidt is a trained computer electronics technician and holds a degree in electrical communications engineering from the Konstanz University of Applied Sciences. From 1997 until 2003, he was employed at Stagetec VPA in Löffingen as a sales engineer for professional audio equipment. From 2003 until 2015, he managed this branch and looked after customers in Southern Germany, Switzerland, Hungary, Poland and Scandinavia. He provided technical consulting and devised comprehensive customer-specific solutions and concepts, as well as creating system plans for audio systems in main control rooms, studios and outside broadcast vehicles for radio and television. In addition, he planned audio systems for theatres and music academies.
Schmidt played a fundamental role in the digitisation of audio for Swiss TV. Another of his accomplishments is the preparation and conclusion of framework agreements with the Swiss Broadcasting Corporation (SRG SSR) and the framework agreements with German TV broadcaster ARD since 2012.
'While on the lookout for a new challenge, I never lost sight of developments at Stage Tec,' Schmidt says. 'It makes me extremely proud to be part of the launch of the new IP-based Avatus mixing console and to introduce it to our broadcasting customers. I'm also really looking forward to working with the colleagues I know so well.'
More: www.stagetec.com