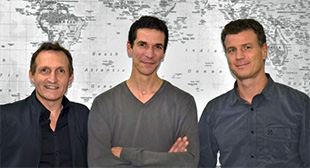 APG has appointed Alexis Reymond as Sales Engineer for Western France and the UK. Based at APG's HQ in Nantes, Reymond will head business development for both regions, as well as providing consultancy and technical support.
After working a sound engineer for live events in France and abroad, Reymond worked as an audio consultant and auditor for the design of loudspeakers, providing insight and expertise to public institutions and houses of worship – skills will directly benefit both APG partners and end-users, as he will be in charge of developing APG's network of service providers and integrators by providing them with all the required technical support for their projects.
'France's Western region has very strong growth potential and already benefits from an active pool of users and a well-established partner network,' he says. 'A number of recent prestigious installations combined with satisfied end-users are an excellent starting point for our growth in this region, allowing us to strengthen our partner network and increase the visibility of the APG brand.
'The UK also has great prospects in the short and medium term – in a market that is almost saturated by ubiquitous brands, the Brits have an entrenched audio culture, yet remain very open-minded when they see innovative and different products'.
After spending 18 years in the live events sector, Reymond has put his technical skills at the disposal of APG users by providing advanced technical support: 'More than a sales person, I want to continue to be in the field, rooted in the reality of our clients, to understand their requirements and feed this back to APG so all parties benefit from a transparent relationship,' he says.
'Alexis is a fantastic addition to our team,' says APG Marketing & Business Development Director, Grégory Dapsanse. 'His appointment coincides with major growth for our brand, so we expect to further accelerate this trend. Alexis brings the perfect mind-set for our newly reorganised structure: his experience as both a sound engineer and a sound designer enhances our existing technical sales engineering team with an R&D background. Finally, Alexis brings an international dimension, allowing us to reach out to the UK.'
More: www.apg.audio