Meyer Sound appointed Chris D'bais to the newly created position of Business Development, Oceania and Southeast Asia.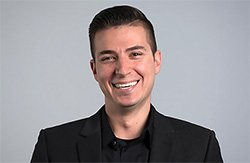 D'bais will be based in Brisbane, Australia, and will serve as a direct factory representative for Meyer Sound across Oceania (Australia, New Zealand and the Pacific Islands) Mainland and Maritime Southeast Asia, as well as in Taiwan and Hong Kong. In his new capacity, he will build direct relationships with architects, consultants, sound designers, A/V integrators and end-users across professional and commercial sound applications.
'In creating this position, we are putting a "boots-on-the-ground" factory representative in this critical region,' says Meyer Sound Director of Business Development, John Monitto. 'We couldn't have found a better person to fill the boots than Chris D'bais. He comes fully prepared with an in-depth knowledge of the technologies, the Meyer Sound product line, the markets and the key players in the region. From day one, he is ready to work with customers to develop comprehensive solutions across the full range of audio applications, no matter how large or challenging the project.'
D'bais brings more than 16 years' experience in audio production and technical management, most recently as sales and Business Development Manager for Meyer Sound's former Australia distributor. Previously he served in technical and venue operations management positions at events, arts and cultural centres in Australia and the UK, including venue operations manager for the Arts Centre Gold Coast. His training encompasses technical production, lighting and rigging, and also includes certification as a Meyer Sound SIM and CueStation operator.
'I've long admired Meyer Sound as an extraordinary, solutions-based company,' says D'bais. 'The people here know how to listen to customers, to understand all the issues, and then to forge comprehensive solutions that are often well beyond the capacity of other loudspeaker makers. It's not about pushing boxes out the door; it's about doing the best for every customer and constantly pushing the envelope of audio technology.
'The installation market offers tremendous promise for the expanding line of IntelligentDC products,' he continues. 'Customers in this region are looking for higher quality sound in all public spaces – from restaurants and art galleries to showrooms and cinemas. I also expect to see many more Constellation [active acoustics] installations, not just in performance halls but also in educational, corporate and hospitality projects. I'll be working to bring more of the Leo Family large format systems into the touring market, where there is also great potential in the region.'
More: www.meyersound.com