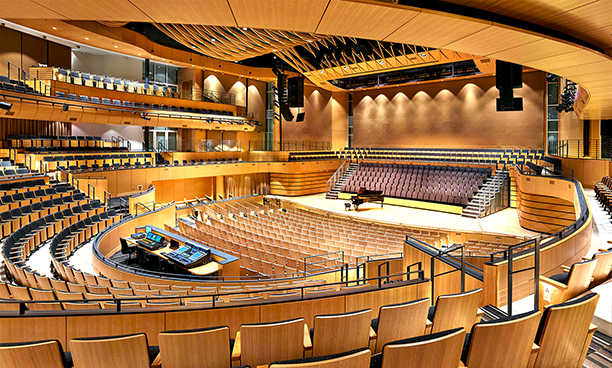 Marrying adjustable architectural acoustics with Meyer Sound's Constellation active acoustic system, Liberty University's School of Music now offers its students, faculty, guest ensembles and residents of Lynchburg, Virginia, a performance venue that is almost unique in the world.
Set on building a world-class venue for orchestral and choral music as the centrepiece of its new Center for Music and Worship Arts, the university called on Creative Acoustics' David Greenberg of to design a hall capable of serving a wide range of uses.
'Initially my brief was only to design a hall for acoustical music performance, and I included adjustable architectural features to accommodate those uses,' Greenberg says. 'But the hall also would be used by the School of Religion, with a programme of amplified music styles ranging from ballads to rock, and would be used for touring performances as well – that's where Constellation came in.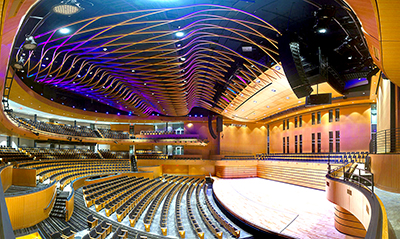 'I worked closely with Meyer Sound's team to understand the capabilities of Constellation so the school could best take advantage of having both technologies at their disposal.'
Ranked among the leading music education programmes in the US, Liberty University's School of Music has complementary systems that are able to create unique aural environments. 'A Holy Grail of acoustics is being able to precisely adjust the second-order decay,' Greenberg says. 'The reverberation gets out of the way so that the sounds you want to be clear and distinct are not covered up. Here, you can have the physical acoustic providing initial reverb decay, and then the active acoustic continuing beyond that in a totally controllable fashion.
'Certain types of music will benefit more than others, but having the two systems together means the range of programs you can host with optimum response is much wider,' he adds.
The ambition to build a 'world's-first' system came during a visit to Northland Church near Orlando – the first house of worship to be equipped with Constellation – according to Michael Gerringer, A/V architect and large public venue manager for the university: 'Our music school dean, Vernon Whaley, fell in love with what he heard there and said we really need to have this in our new hall,' he recalls.
The physical acoustics of the hall are altered using motorised curtains and vertical banners selectively covering wall areas behind the stage and around the perimeter of the auditorium.
The Constellation active component comprises 48 miniature microphones spaced around the hall for sensing ambient acoustics, together sending signals to a D-Mitri digital audio platform that includes four dedicated processors (one for each reverberation zone) that host VRAS acoustical algorithms. The resulting acoustical characteristics are created in the space by 303 compact loudspeakers and 18 compact subwoofers, also distributed throughout the hall to emulate the reverberant effect of reflective surfaces.
The system's capabilities were given a workout for the annual Christmas on the Boulevard concert, when the school's orchestra and choral ensembles performed excerpts from Handel's Messiah and then, after an intermission, music from popular holiday films and traditional carols.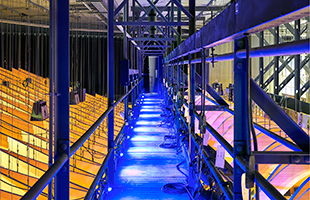 'Everybody was in awe after that event – it was astonishing what we could get out of that room,' says Gerringer, who believes that the Constellation system 'will give our students a greater knowledge of the technologies that are available in the real world. We can push the envelope of audio and acoustics, and that gives our students an edge when they go out into the workplace'.
In addition to events produced by the university, the hall will host concerts by the Lynchburg Symphony and touring ensembles such as the Richmond Ballet, accompanied by full orchestra. 'It will be open for all kinds of events that fit a 1,600-seat footprint, including conferences, awards shows, perhaps even a presidential debate,' Gerringer says. 'With this acoustical flexibility, there's really no limit to what we can do.'
When direct amplification is required, the hall uses a house system based around a Meyer Sound Leopard line array system. 'The Leopard arrays have performed beyond our expectations,' says Gerringer. 'They are clean and transparent, and perform well whether the sound deadening curtains are in or out. I'm an audio mixer myself, and I can hear things through the Leopards that get lost in other PA speakers. They are like big studio monitors.'
Supporting the dual arrays of 15-each Leopard loudspeakers are two cardioid arrays of five-each 1100-LFC low-frequency control elements, four Leopard for centre fill, two UPQ-2P loudspeakers for out fill, 14 MM-4XP self-powered loudspeakers for front fill, and ten UP-4XP loudspeakers for upper balcony fill. Four Mina line array loudspeakers and four UPJ-1P VariO loudspeakers are available for choir loft and stage fill.
Another principal contributor to the hall's success was Theater Consultants Collaborative, with Jason Prichard taking charge of overall A/V system design. Pro Sound & Video handled installation of concert hall audio under the supervision of Brian Bolly.
Meyer Sound systems also installed in 11 smaller performance and learning spaces throughout the new facility, including recital halls, choral and wind/symphony rehearsal rooms, songwriting and computer labs, and the guitar commons – including CQ-1 and UPQ-1P loudspeakers, UPJ-1P VariO loudspeakers, and Amie precision studio monitors as well as 500-HP subwoofers. Six MJF-210 stage monitors are also available for use in the concert hall.
More: www.meyersound.com