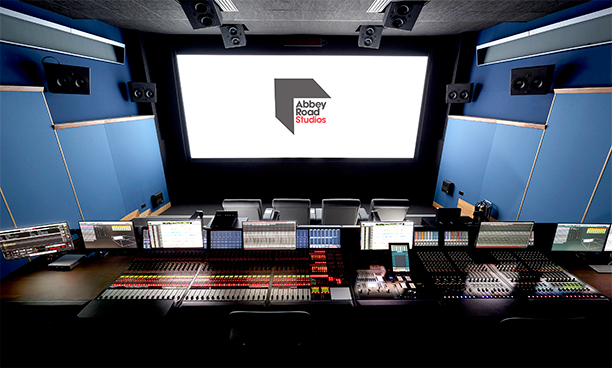 Calling it 'the biggest transformation since the studios opened', London's Abbey Road Studios has opened a Dolby Atmos Premier Accredited mix stage and two new 'contemporary' studios ­ The Gatehouse and The Front Room.
Configured for Imax audio compatibility, the Mix Stage handles 4K projection and is equipped with a 44-speaker set-up and an AMS Neve DFC3D mixing console accompanied by an Avid S6 surface, eight Pro Tools systems and a dedicated HDX picture playback machine. The equipment has been supplied by HHB Communications.

The hybrid structure of the mix stage console – which was conceived by Abbey Road engineers and is housed by a Frozen Fish Designs custom frame – allows the interchange of DFC3D and Avid S6 buckets. 'What this means in layman's terms,' says the studio, 'is that, for the first time ever, filmmakers and sound crews have everything that they need for pre and final mixing for film, all within the walls of Abbey Road Studios.'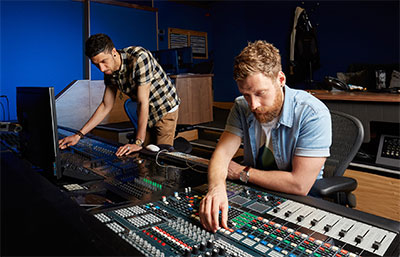 'Ahead of the build, a lot of film postproduction people generously gave their time and expertise to describe their ideal post facility to us,' explains Abbey Road Studios Head of Technical Services, Simon Campbell. 'Some favoured the DFC, others the Avid S6, so the idea of a hybrid console took hold. HHB seemed the obvious people to talk to as we've known them for many years and always have the utmost faith in the advice they give us. They brought their team from Scrub onboard who, along with Frozen Fish who built the new console frame, helped us pull the plan into focus. HHB's experience in this area proved invaluable and they were able to help us fill in the gaps. For instance, their experience with the NTP audio interfaces and IHSE KVM matrixes, which enable operators to share or take control of any Pro Tools screen, was an essential part of making the Stage truly flexible.'
The room also has unique Screen channel HF driver switching using an exclusive speaker design by Munro acoustics, as well as in-house custom DSP and hardware – giving the mixer the ability to switch between horn and soft-dome HF drivers for five screen speakers at a touch of the button from the listening position. Also included are three cutting rooms, plus access to the Penthouse and Studio 52 mixing rooms. AKA Design provided two producers' desks in walnut with angled racks and panel fabric-covered vanity screens, plus a walnut AKA rise-and-fall coffee table at the back of the room that transforms into a table-height surface with pop-up client power units.
'This new purpose-built postproduction mix stage enabled us to create a facility with no compromises in terms of speaker placement and flexibility for client demands,' says Sound Mix Technician, Kobi Quist. 'Whether artists or engineers want to mix the audio virtually, natively, or using a combination of both, our mix stage is set up to ensure incredible mixes and leave a positive lasting impression.'
'As one of the few recording studios in the world that can easily accommodate a large orchestral recording set-up, Abbey Road Studios has become the premier destination for leading movie studios and award-winning movie score composers,' adds Abbey Road Studios MD, Isabel Garvey. 'The new mix stage confirms our commitment to keep delivering the best-in-class facilities and studio talent from recording through to postproduction.'
Featuring Focal SM9 monitoring, a 16-fader Neve BCM10/2 Mk2, Pro Tools HDX2, Apogee A/D/A, Logix X and Ableton music production software, outboard from the likes of Chandler, Bricasti, Neve, API and Universal Audio, and a selection of plug-in processors, the Gatehouse provides a combination of analogue equipment and DAW operation, along with a generous live room.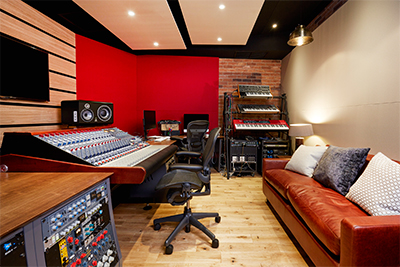 'We selected the BCM10 Mk2 to enable us to maintain the sound quality associated with Abbey Road Studios, while functioning as a modern recording room with the fast turnarounds expected in such an environment,' says Simon Campbell, Head of Technical Services.
'The BCM10, with its 1073 and 1084 modules provides an instantly familiar nvironment for engineers, and its lack of complexity enables projects to be tracked and mixed through the console without the normal time penalties associated with mixing out of the box.'
The Front Room, meanwhile, has ATC SCM25A monitoring and a 24-fader SSL Duality δelta mixing console, as well as Pro Tools HDX2, Apogee A/D/A, Logix X and Ableton software. It also has extensive outboard and plug-ins and a live booth. The room features left and right worktops in oak with rack bays in grey lacquer either side of the Duality console.
Abby Road intends the new studios to open its facilities to artists of all levels, from emerging talent to established acts – while strengthening its links with various manufacturers – two of the three main studios already equipped with Neve 88RS consoles.
'Abbey Road has a long history of innovation and this is maintained by working closely with manufacturers and keeping up to date with upgrades,' Campbell says. 'This made it vital to upgrade to the latest DSP and DFC3D software for our DFC Gemini to improve performance, provide new features and open doorways to new technologies such as Dolby Atmos. The upgrade went smoothly and we look forward to putting the new system through its paces.'
'It's such a great transformation of the studios,' adds AKA Design MD, Guy Wilson. 'We have an excellent working relationship with the studio, from both a technical and design point of view, and we look forward to hearing and watching many of the projects that are created in the new spaces.'
'What Abbey Road has achieved with the new Mix Stage is truly impressive, and we're proud to have helped Simon and the team realise their original vision for this exceptional facility,' says HHB Pro Audio Sales Manager, Matthew Fletcher.