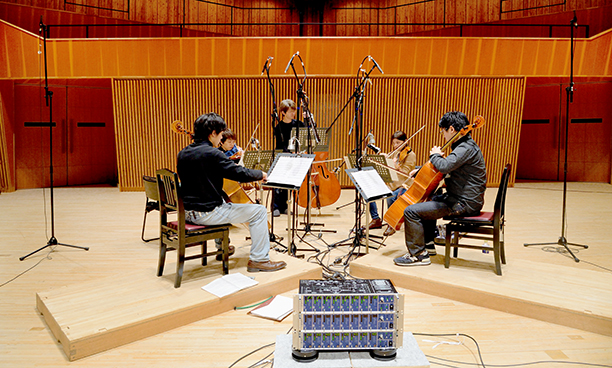 Highly-regarded in Japan's discerning music recording world, Mick Sawaguchi has a history of pioneering new techniques, and has been a strong advocate of surround over many years. In 2014, his recordings have moved to 9.1-channel surround – the configuration advocated as ideal for music by Auro 3D. This admits Sawaguchi to the exclusive club of multi-award-winning adopters of the format.
Tellingly, Morten Lindberg from 2L, Daniel Shores from Sono Luminus and Sawaguchi from Unamas are all users of Merging's Pyramix 10, with Horus and Hapi networked audio interfaces.
Sawaguchi recently collected the Professional Music Recording Award of Japan's prize for Best Surround Recording. Lindberg has two Grammy nominations in the Best Surround Sound Album category plus 3 more in other sections including Best Engineered Album, Classical. Shores has a nomination for the Best Chamber Music/Small Ensemble Performance.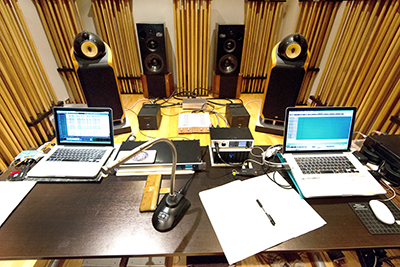 It is unsurprising that they are all in regular communication with each other, sharing experiences and techniques.
Unamas records an interesting variety of music, which has been difficult to obtain outside Japan. From December 2016, High Res Audio – Germany's premier download site – has been offering surround and stereo file downloads and the first 17 Unamas titles are now online. The venues used for these recording sessions is also interesting.
The award-winning recording, Death and The Maiden by Franz Schubert was recorded in the Ohga Hall in Karuizawa, nearly 150km from Tokyo (70 minutes by Shinkansen). As indicated by its name, this hall was sponsored by the late Norio Ohga, the former Chairman of Sony and an opera singer and notable music lover. The hall is located in a particularly beautiful area famed for its connections with nature. The size and acoustic properties are ideal for this type of recording.
Perhaps the more unusual venue used recently was an Acoustic Groove System studio which is similar to an anechoic chamber. This represents the opposite approach to capturing the sound of a particular room as there is no coloration of the sound caused by the room itself. This is located at the Acoustic Laboratory of architectural sound design consultants, Nihon Onkyo Engineering in Chiba. The recording made here was A Piazzolla by Strings and Oboe, and was very recently released on the Unamas label.
Experimentation is not confined to the acoustics – Sawaguchi has been using Merging's Pyramix 10's 3D panning capability since an early beta version was made available. He has also been concerned that his recordings might be affected by variations in the mains power quality. The solution is to connect to a DC source; the challenge is how to find a battery powerful enough to handle all the equipment. The answer was found with batteries produced for solar power storage for houses or industrial premises. These can provide 15A for around seven hours when feeding a 12V-100V inverter which is adequate power and running time and seems to be having a beneficial effect on the sound recorded, as was hoped and anticipated.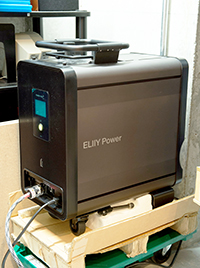 Since there is no manual on how to record 9.1, Sawaguchi has experimented with set-ups for the height channels. This can be influenced by the acoustics of the venue and the choice of microphone type. The recent availability of digital microphones has also affected the choice for the main instruments. The Ohga Hall recordings for J.S. Bach's The Art of the Fugue featured Neumann KM-133D mics feeding RME digital mic preamps, reported as providing a 'very accurate and open sound'.
The Art of the Fugue is a complex composition ideally suited to surround. Its is usually scored as a string quartet but it was felt that adding a bass instrument would enhance the result, so a special arrangement was made by Yoichi Tuchiya. Pyramix 10 proved invaluable on the recording and when mixing down to 5.1 and two channels. There are also special mixes for MQA (Master Quality Authenticated) and HPL (Head Phone Listening) from Acoustic Field in Japan. This is a system that can simulate the original speaker layout, even up to 22.2 and requires a binaural encode from the 9.1-channel master for headphone listening.
'It really helps to be able assign tracks to channels by being able to view both the horizontal and the vertical plane,' Sawaguchi says. 'Being able to follow the signal flow with different colours gives you instant feedback and it is also very helpful to be able rearrange the final master track configurations so we can get the LFE or the other channels in the correct order. Being able to capture these performances in Auro 3D has been a thrilling experience for the artists and myself and we hope more people will be able to enjoy the added realism which the four height channels can offer.'
More: 
www.merging.com