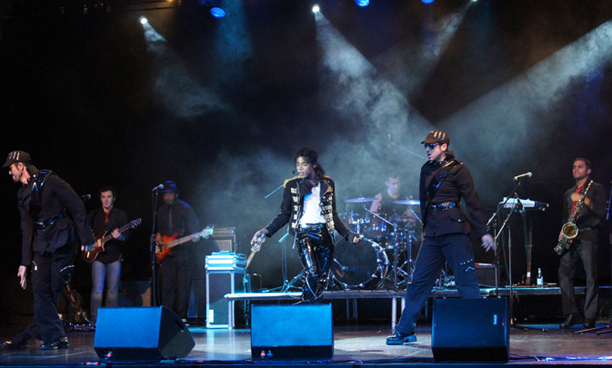 Described as 'the closest you can get to seeing Michael Jackson Live', the tribute show
Who's Bad
brings the King of Pop's music back to the stage. Formed in 2004, the band have been playing Michael Jackson's hits across America, and are now beginning 30 UK dates climaxing at the IndigO2 in London.
An experienced system tech and the FOH engineer for the tour, Ted Pierce, specified line array systems on earlier Who's Bad tours. But for the current dates he is using Tannoy's VQ Live. 'First impressions, first day – plugged it in, networked everything together and hit play. The fidelity in the high-end is amazing. It blew me away within 15 seconds.'
With its focus on the live performance of the band, the high-performance system requirements of a touring rock band were needed, along with the ability to scale the rig to deal with varying sizes of venue. The show required a single pair of VQNet 60 Live tops per side and paired stack of VNet 218DR Live and VNet 215HL Live subwoofers each side proved sfficient, with the smaller gigs using just a single top box per side, giving comparable SPL performance as a four-box flown line array system. Given that VQ Live is fully integrated with onboard amplification, DSP and network control (via Tannoy's proprietary VNet system), there's no need for additional outboard power and processing and setting the system up and tuning to each venue is quick and easy.
'I'm not trying to sugar coat this at all, but after just two gigs with the system, I'm completely comfortable working with the DSP to tune the room out,' Pierce says. 'Its super easy thanks to Tannoy's VNet software working straight out the box, to locate each device and EQ each individual box in minutes. Last night for example, I ended up taking the inside boxes and dropping them 3dB on the fly, just to give me a little more headroom with the vocal mics – crucial with a ground-stacked system – it's just so user friendly.
'In this system I definitely see an advantage in point source systems with the smaller amount of boxes,' he adds. 'Compared with running line array systems in the same venue last year, one VQNet 60 Live is definitely giving us better performance.'
As well as the VQ Live components, the tour's system features Tannoy's VNet 12HP handling side-fill and monitoring duties, configured and controlled on the same network as the VQ Live boxes, thanks to full VNet integration.
More: www.whosbadmusic.com
More: www.tannoy.com/pro