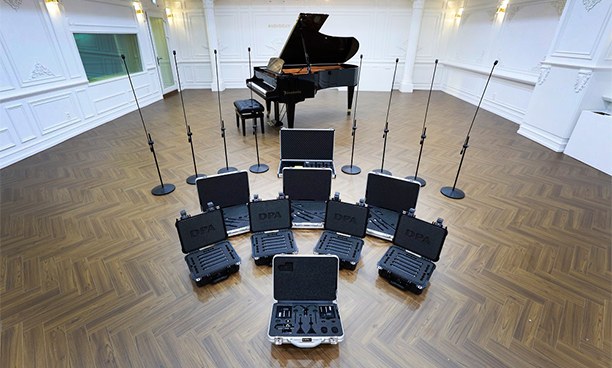 Seoul's Audioguy studio specialises in recording traditional Korean Gukak music, as well as contemporary classical, jazz and acoustic projects. Recently refurbished, the studio now regards DPA Microphones' d:dicate range as the backbone of its recording set-up.
Jung-Hoon Choi has added to his already extensive DPA collection, supplementing three d:dicate 4006AE gold anniversary microphones and 3521 grand piano stereo kits with three d:dictate 3532-SP large-diaphragm stereo kits – comprising six matched d:dicate 4041-SP omnidirectional mics. He has also invested in four surround microphone kits consisting of d:dicate 4011A cardioid and 4015A wide cardioid mics with S5 surround mounts.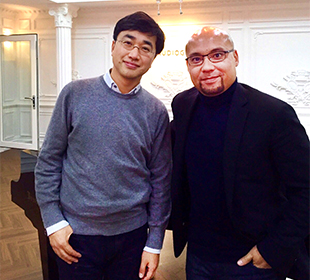 Additionally, Choi has invested in ten further stereo kits in various configurations (including d:dicate 4006A omnis, 4011A cardioids, 2011A cardioids and 2011C matched compact cardioids), four d:dicate 4011C compact cardioids and eight floor stands.
'Microphones and microphone techniques are the most important features in transforming the artist's music into a good sound,' says Choi, who has more than 20 years' experience as a producer and engineer. 'DPA microphones perfectly translate the sound we hear into a recording and this is why I am happy to invest in the company's products.'
A large part of the studio's workload involves capturing live sound and for these, says Choi: 'Each year, Audioguy records 30 to 40 choral performances in churches and concert halls, often accompanied by organ,' he says. 'These are one of the company's most popular genres. Usually, I use d:dicate 4006A in LCR form for orchestral recordings, but when record with the choir I use d:dicate 4011 mics, or the 3521 kits in the ORTF configuration.
'If the choir is performing with an organ rather than an orchestra I use d:dicate 4006 Omnidirectional Microphones because these give the best harmony of direct and reflecting sound so that the choir's own natural touches are perfectly delivered. By using this technique, we can experience the performance in much the same way as the conductor – by facing the artists and listening to each part of the harmonic ensemble.'
In fact, the d:dicate 4006A has proved itself in so many different settings that Choi now says he can't imagine recording classic music without it: 'It's simply the best microphone for location recordings. Any good recording is not just about delivering the sound, but also about the feel: things like the time and place where it was recorded. In order to minimize reverb in mixing or mastering, I prefer to control the sound by changing the ratio of the main and ambience microphones.'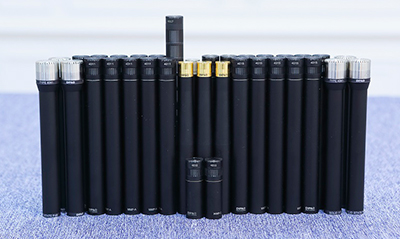 He also enthuses about the results he has had using the d:dicate 4011A Cardioid Microphone on piano recordings: 'With its clean and clear characteristics, the d:dicate 4011 is perfect for recording instruments with a strong attack transient, such as the piano, and I also use it for drum overheads and acoustic guitar,' he explains. 'A particular advantage of the 4011A is that it has far less proximity effect. We can place multiple instruments in one space with the mics very close to each other, and still get transparent, beautiful sound.'
The d:dicate 4011 is also first choice when Audioguy is recording traditional Korean <i>Gugak</i> music, which is something of a specialty for the facility. This type of music often features the <i>gayageum</i> – a Korean 12-string instrument similar to a zither or horizontal harp.
'For this, I use the 4011 in an ORTF or XY technique, or the 3521 in the same settings,' says Choi. 'I also use the d:dicate 4006 because its rich, low sound gives a great quality to percussion.'
'All DPA condenser mics can be used for instruments with high sound pressure, therefore I rarely use dynamic microphones,' he adds. 'My technique is to place more emphasis on the ratio of direct and reflecting sound, than on the sound tone. I love the clear and clean direct sound of DPA mics, and the d:dicate 4006 especially, as it captures all of the sound of the recording location, including the ambiance. I also like DPA's extensive range of accessories.
Choi is currently working on a number of live sound and studio projects. Among the many Korean and international artists he has collaborated with are Youn-Sun Nah, Inger Marie, Giovanni Mirabassi and Yuhki Kuramoto. DPA will play a part in all future projects, he says, because they 'deliver an amazing sound and will always be a central part of my recording career'.
More: www.dpamicrophones.com