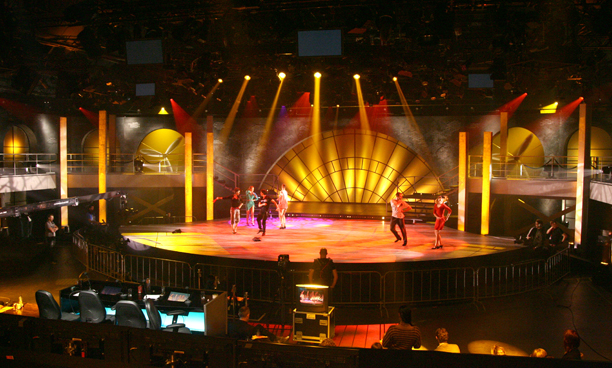 The live finals of the 'So You Think You Can Dance?' TV show in Holland and Belgium, saw a number of Lab.gruppen PLM 10000Q and brand new PLM 20000Q as part of a substantial live PA system, which also includes Lab.gruppen's FP+ series, by lighting and sound supplier, Eventec.
'With the Lab.gruppen amps, we can do everything,' says Eventec's Wijnand Mol. 'Whether it's a small system or a large line array with subs, one rack does the job. For studio set-ups like this, it's great to have the control that Lake provides, and it can all be driven on an iPad. Not to mention that the high power output of the PLM gives us so much headroom and packs 4 × 2.5kW and 4 × 4.5kW in a single rack weighing just 30kg.'
Produced by Kanakna Productions, the show has eight 'finals' shows broadcast live on Dutch TV network RTL and VTM in Belgium, from Studio 1 at Aalsmeer, just outside Amsterdam. The first of the live finals took place on 10 October, with the grand final on 28th November.
Eventec supplied all sound and lighting for the show, with the audio system based around Seeburg Acoustic Line Galeo XT tops and subs, powered by racks of Lab.gruppen PLM and FP+ and controlled via Dolby Lake DLP and Lake Controller software, running off PC but controlled from an Apple iPad running VNC (remote desktop control). Two racks each containing a single PLM 10000Q and PLM 20000Q are all that's required to comfortably drive a total of 12 Seeburg Acoustic Line Galeo tops and eight Galeo subs. A third rack, comprising of the same units, is being used to drive some additional elements such as a loudspeaker cluster for the judges' position.
Monitor wedges and some additional fills around the studio floor area are powered by a pair of racks each containing Lab.gruppen FP 10000Q and third-party processing and control.
More: www.eventec.nl
More: www.labgruppen.com
More: www.lakeprocessing.com