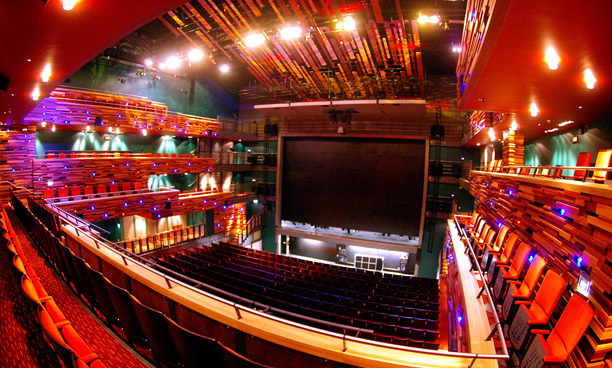 With versatility, reconfigurability and remote system diagnostics over a LAN at the top of its agenda, UK systems contractor Northern Light won a competitive tender to provide an advanced technical infrastructure for the new £35m Aylesbury Waterside Theatre.
As there are three audience tiers (including fixed-seating balcony and upper balcony levels), and optional ground floor seating wagons to enable the 1,200-seat auditorium to convert into a 1,800-capacity standing space, the specification devised by Carr & Angier Theatre Consultants made evenly dispersed sound critically important. Accordingly, Northern Light Project Manager Simon Cooper turned tod Martin Audio's purpose-designed Wavefront theatre systems.
For the primary system, he chose 14 purpose-designed WT3 Arrayable three-way compact theatre enclosures. These are designed in three vertical pairs on either side of the proscenium arch, focused onto each balcony, with a single enclosure at the base. The proscenium system is complemented by a centre cluster of seven W3P arrayable compact enclosures to provide true LCR imaging, while two WS18X subs, either side of the stage, add LF extension.
Martin Audio WT15s provide stage fill, while high up the building four WT2s and a pair of S18(F) subs are mounted on the second lighting bridge to form the delay system for the second balcony. Finally, under-balcony support is provided by Martin Audio's C6.8T ceiling speakers – six on each level.
Driving the main PA system are dedicated Martin Audio amplifiers, situated in a rack room close to the proscenium arch in order to reduce cable runs. These consist of 13 MA5.2K, two MA12K and an MA1.3, while the Martin Audio ceiling speakers reside on a separate circuit.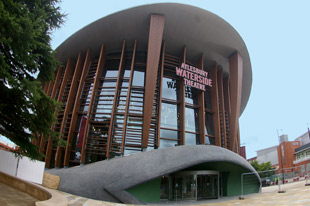 Explaining his choice of system Simon Cooper stated that he had previous experience of seeing WT3s designed in a similar configuration – and his concept received the full support of Martin Audio's Peter Child, who assisted with the design. In addition to the sound, the Northern Light project manager realised that with Ambassador Theatre Group (ATG), the UK's largest theatre group, running the venue, visual reinforcement would also need to be world class, since the Aylesbury Waterside would be a circuit venue for the nation's UK's top touring productions.
In each instance, he evolved a solution to match challenges which included networking through two lighting bridges and a forestage, plus servicing ancillary areas such as a second, 225-capacity studio/function space, a foyer and a number of dressing rooms requiring show calls. All this is within an extraordinarily high, seven-storey building – measuring 25.27m from stage level to fly tower – with an orchestra pit and motorised floor.
The Northern Light team worked closely alongside main contractors, Willmott Dixon, and electrical contractors, Darke & Taylor, who provided the cabling. The building's architectural design – a strikingly curved façade with timber-finned interior – was created by the Arts Team at RHWL.
The new facility will enable Aylesbury Vale District Council to decommission its old Civic Hall in favour of a multi-cultural arts centre to kick start new development of the town centre.
More: www.martin-audio.com