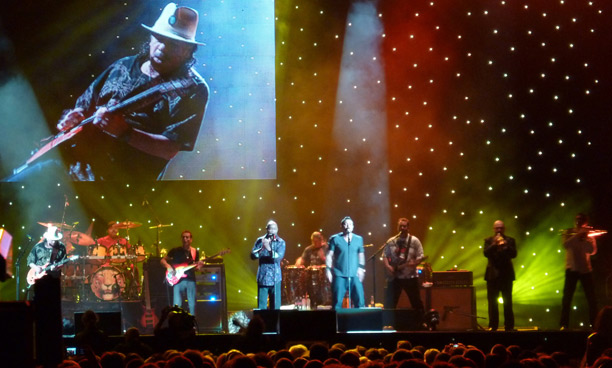 The European leg of his Universal Tone tour, found seminal Latin-rock guitarist Carlos Santana taking to the stage in Dublin and taking encores in Hamburg with an L-Acoustics K1 line source system.
Provided by L-Acoustics Rental Network Agent Satis&Fy, the PA system covered the 21-date tour did of Europe's leading arenas, with hits from Santana's four-decade career. 'The K1 system has met and exceeded all of my expectations,' says Robert Mailman, Santana's front-of-house engineer. 'Its unique features, combined with excellent tour support from the staff at Satis&Fy, have made the Santana 2010 European leg a great success.'
The main system comprised 14 K1 large format line source cabinets and three dV-Doscs per side as down fill, with six K1-SB low frequency extensions flown beside both arrays. The system was driven by LA-Raks housing L-Acoustics LA8 amplified controllers.
Satis&Fy is also using an L-Acoustics K1/Kudo system for Joe Cocker's current Hard Knocks tour, which continues into December.
More: www.satis-fy.com
More: www.l-acoustics.com