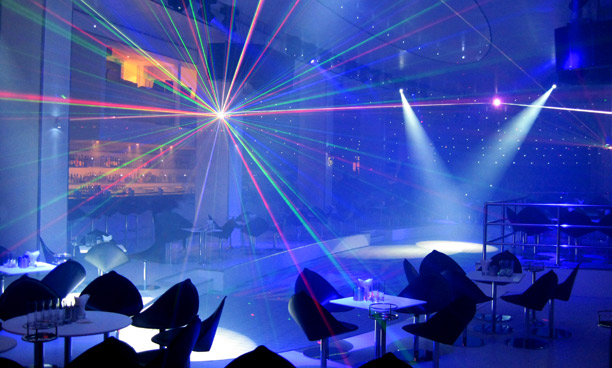 Opened in late September with a set by French DJ David Vendetta, Seven is a new club in the La Cigale Hotel in Doha. The 1,000-capacity oval-shaped venue 'delighted and astonished' its opening night audience with its sound system and entire set-up.
Supplied by L-Acoustics provider Venuetech, the sound system is based around a stereo loudspeaker configuration located in front of the DJ booth. This comprises two hangs of four L-Acoustics dV-Dosc cabinets focused on the dance floor and four hangs of three Arcs medium-format line source cabinets to cover the table areas around the dancefloor.
A further system of six distributed 12XT coaxial boxes cover a pillared area. The club also uses an unusual sub-bass setup of six SB28 subs in a horizontal Arcs/Sub configuration, to deal with the very wide shape of the venue.
The DJ, VJ and LJ all have personal monitoring systems using 12XT coaxials, and the entire system is driven by LA4 and LA8 amplified controllers, monitored by the L-Acoustics Network Manager remote control software.
'The venue's architectural shape is unusual and the design of the system was a big challenge,' says Venuetech Technical Director Elie Khairallah. 'The result is phenomenal and the sound quality, along with SPL levels that system can provide, is excellent. All of the gear was installed in a very short time and setup of the system was accomplished in just two days.'
More: www.venuetech.ae
More: www.l-acoustics.com