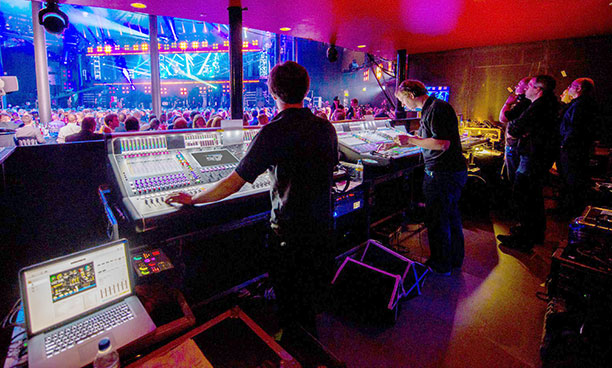 This year's Barclaycard Mercury Prize saw the event's regular audio supplier move to a full DiGiCo system, with the UK-manufacturer's consoles at each of the show's mix positions.
Held at London's The Roundhouse and hosted by Lauren Laverne, the awards' accolades went to James Blake for his album Overgrown. 'We've been working on the Mercury Prize event for the past ten years,' says Plus 4 Audio Operations Manager, Mark Ballard. 'It's great to work on because of its profile in the industry.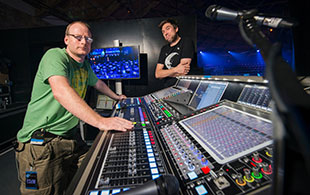 'The move to use DiGiCo for the event started when we introduced the consoles at the Barclaycard Mercury Prize Sessions at The Hospital Club in Covent Garden,' he explains. 'We had used SD7s at FOH for last year's awards, with SD8s elsewhere, and this year we felt the time was right to make the shift to an entire DiGiCo console set-up. We also made the decision to have SD5s as our monitor boards, which was another first. It was the right decision as everything about the desk suits these shows.'
With to acts playing one song each, even the use of an A/B set-up – with Nick Cook and Lewis Warehan looking after FOH positions, Martin Dineley and Rod Clarkson at monitors for Plus 4, and Simon Wall from the Hospital Club engineering a separate broadcast mix – left tight turnarounds between acts.
'Using a DiGiCo desk allows you to set up it up for each band's engineer and know it's exactly how they want it,' Ballard says. 'Even if they've never used DiGiCo before, it's easy for them and they come away with a good experience. Some of the bands sent us session files that we imported and then changed to match our patch system. For most of them, we created a session based around their channel list, but with our generic system patching them on stage.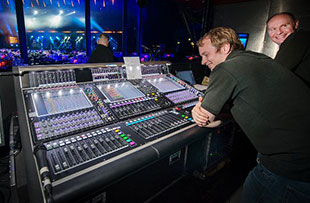 'In each case, we tried to make the engineer's session individual to them and the layout of the DiGiCo consoles makes that really easy – rather than being a generic board, we were able to customise them for each act. Another advantage is that the engineers don't have to go looking for things, as every input and output channel is right there in front of them. It's pretty difficult to do that with any other desk.'
Reports from the visiting engineers were very favourable and everyone was happy with the sound: 'That's quite an achievement,' Ballard says. 'The Roundhouse can be challenging to get good sound in, but we were very, very happy with the result.'
The shift to DiGiCo for the Mercury Prize is indicative of Plus 4's current equipment inventory: DiGiCo is the predominant brand of console in our warehouse,' Ballard confirms. 'In fact, we're selling off our other consoles to buy more. We've made a pretty sizeable investment and that shows our faith in both the company and the product.'
More: www.plus4audio.co.uk
More: www.digico.org