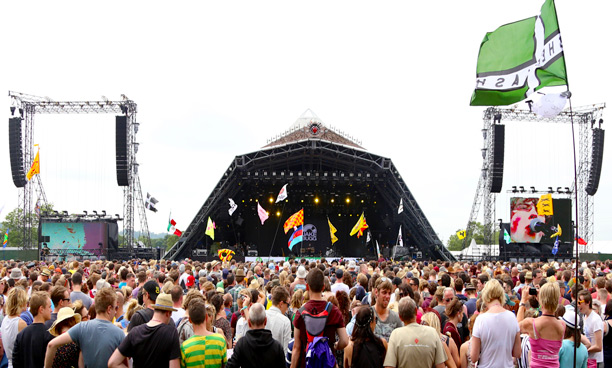 With the Rolling Stones making their first appearance and fesival founder Michael Eavis suggesting it might be the last, Glastonbury set record attendance levels.
But with Arctic Monkeys, Dizzee Rascal, Primal Scream, Elvis Costello, and Mumford & Sons also on the bill, and the English weather being uncharacteristically kind, Eavis' efforts were well rewarded: 'It really is the best festival I've ever done, without a shadow of a doubt,' he says.
Sound company RG Jones took care of the festival sound, again using its tried and trusted Martin Audio W8 Longbow system for the Pyramid Stage.
With visiting artists and sound engineers having been so complimentary about the system two from years ago – the last time the four-day event was held – RG Jones had no hesitation in fielding a similar PA rig. In addition, the company knew that it would meet all requirements and propagation tests set by Eavis and the event's acoustics consultants.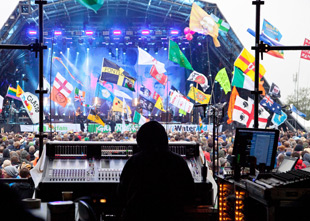 As with the past four festivals, the dual inner and outer PA hangs comprised 14 W8L Longbow elements per side, with two W8LD Downfills at the base provided the full range dynamic – making 64 boxes in total. However, this year RG Jones changed the subwoofer design from the Martin Audio WS318X subs fielded in 2011 back to 54 of the WS218X enclosures used previously – still maintaining an electronically curved, cardioid broadside array configuration.
With the subs delayed incrementally from the centre outwards, the overall wavefront was tuned to fill the Pyramid Stage area, and ensure that spillage beyond the site perimeter was minimised.
'We have tried various configurations of the bass array and this solution – with two enclosures front facing and one reversed – works particularly well,' says RG Jones Project Manager Ben Milton, who was taking on the role for the first time. 'The rejection from the stage is great and it enables us to bend, shape and steer the sound.'
In addition, two clusters of four W8LC Compact Line Arrays, situated at each end of the crash barrier, provided close-field fill, and four delay masts each comprising a further 16 W8LCs were positioned 100m back from the downstage centre, split into an arc.
'This solution worked great,' Milton says. 'The organisers wanted to leave nothing to chance when it came to maintaining levels and this was virtually a carbon copy of the 2011 system. We had plenty of opportunity to walk the field and conduct measurements, to ensure the accuracy of the system.'
One advantage was the additional zoning that could be applied for tighter control. 'All the tops were on individual circuits so we could turn them down very discreetly if necessary and sculpt the system. When the sun goes down the air temperature changes and we back off the top boxes, and as it cools we can bring them back up again.'
This is the domain of seasoned PA system technician Mark Edwards, who has vast experience with all Martin Audio's premier systems. He was an essential member of RG Jones' specialist team, which included Steve Carr and Damian Dyer at FOH (with the vastly experienced Simon Honywill occupying more of a 'floating' role this year). Stage logistics were shared by Ben Milton (who also mixed monitors for some acts) and Mark Isbister. Supporting the system throughout was Martin Audio R&D Director, Jason Baird.

'This year's Festival was the most professional, slick, calm, enjoyable experience I can remember at an event of this stature,' Honeywill says. 'The Rolling Stones sounded absolutely incredible, with all the requisite punch and fidelity you could have wished for. Coverage was superb – the Stones FOH team were extremely happy, and the punters were testament to that. As a neutral platform for all the acts, it would be very difficult to criticise the sound, and I was proud to be associated with such a brilliantly well delivered system.'
'We now have bands and their technicians fully confident in the system and happy to use our racks, stacks and control. It makes for a great British synergy, a British production company using a British PA system at the greatest of British festivals,' says Milton.
Mixing Glasto
Alongside the house mixing consoles, a number of acts had opted to bring in their own desks for this year's event – notably, a number of DiGiCo consoles. Among them were headliners Arctic Monkeys and Mumford & Sons, plus Smashing Pumpkins, who played the Other Stage.
'It's still relatively unusual for bands to take their own equipment into a festival, due to the restrictions imposed by the quick turnarounds between sets,' says DiGiCo MD, James Gordon. 'The fact that three top-class bands are insisting on taking their DiGiCos into a festival as vast as Glastonbury shows just how much they have come to rely on their ease of use and sound quality.'
'I only use DiGiCo consoles, so I will be using my SD7, while our monitor FOH engineer, Jon Lemon. 'There's nothing else that works for me at this point and they're still the best sounding live console there is.'
With sunsine, 150,000 festival-goers and its own BBC radio app, perhaps, the only thing Glastonbury 2013 lacked was [sound engineer] Steve Watson, who sadly died the weekend before. 'He is sadly missed, and the industry won't be the same without him,' Honywill says in tribute.
Sonic, Arcadia and WOW stages...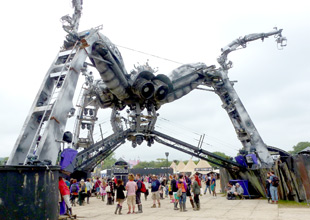 Alongside the action on Glastonbury's main stage, Sonic, Arcadia and WOW offered the event's most enterprising entertainment. Continuing a relationship that began during Glastonbury's formative years in the early 1970s, Funktion-One and three of its rental network partners provided the audio systems.
Sonic presented some unusual challenges; Audio Plus worked with Funktion-One to ensure that the aural spectacle matched the visual extravaganza at Arcadia and Audio X supplied the sound to WOW.
Sonic was built by Silver Stage, using its SaddleSpan modular truss framework. Essentially a Y with a short stem, the performance area was a challenge for Funktion-One's Tony Andrews, Audio Plus' Owner Stefan Imhof and Project Manager Mark O'Neill. The stage occupied the short stem of the Y, providing views from beneath its arms and outside in the central V formed by those arms. Coverage was needed for both arms of the structure and in the central zone – which had the potential to stretch back as the audience grew.
Left and right stacks of six Funktion-One F221 bass enclosures and eight Funktion-One Resolution 5 loudspeakers, positioned on either side of the stage, covered the canopied area. Two delay stacks, consisting of three F221s and five Resolution 5s were placed at the edge of the tent, in the central zone. While three Funktion-One BR221 reflex speakers delivered the bass frequencies.
Funktion-One RM18 point source monitors and BR118, BR218 and BR221 bass reflex enclosures, as well as stacks of Funktion-One F218s and Resolution 4s formed part of a high-performance monitoring system – all served by MC2 E100 amplifiers and XTA processing.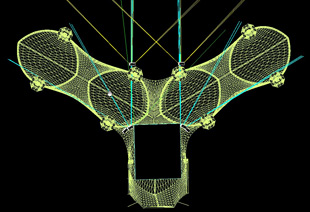 If Sonic was unusual, Arcadia was unconventional. It was formed by a 30-ft high spider structure, which came alive at night with video, lighting, lasers and flames. The audience formed beneath its three legs and body, and all around the metallic arthropod. Audio Funktion set up 30 Funktion-One Resolution 5Ts and 18 Funktion-One F221 bass enclosures in a six-point hexagon layout of outer stacks. These were powered by MC2 E100 racks, with XTA 448 control.
For inner fill, six Funktion-One Resolution 4Ts were flown from the structure in three different positions, along with six ground stacked Funktion-One F218s. Six outer fill positions at the rear of the main stack used Resolution 2SH loudspeakers – the skeletal mid-high section of the Res 2. And the ARC Bar, situated on the outer edges of Arcadia, was reinforced with two Funktion-One Resolution 4E speakers and four F218s. Power came from MC2 E45 and E25 amps, with XTA 448 control.
WOW offered outdoor daytime performances and evenings in the WOW tent, and required two different set-ups. WOW Outdoors used three Funktion-One Resolution 3 loudspeakers with eight F121 bass enclosures, while the WOW Tent used six Funktion-One Resolution 9 speakers, eight F221s and two Resolution 2s for fill. Full Fat Audio and MC2 amps were used with XTA processing.
'We find ourselves involved and associated with the people who are pushing the creative side of the festival,' says Funktion-One's Tony Andrews. 'They're focused on performance and audience satisfaction. The people on the fringes tend to be the ones who are willing to experiment with new ways of doing things, which makes it interesting for us. Inevitably, there were challenges, but we're really happy with the way things worked out.'
See also: