Entitled Intercourses 2013 a new installation by Danish artist Jesper Just is now showing at the the 55th International Art Exhibition – La Biennale di Venezia.
The the multi-screen projection uses five screens with 11 channels of audio and one screen in 5.1. While the audio playout was straigtforward, maintaining synchronisation with continuous playout of the images was not...
The projections vary in size from depending on the scale of the room they inhabit, underscoring the spatial element of the presentation.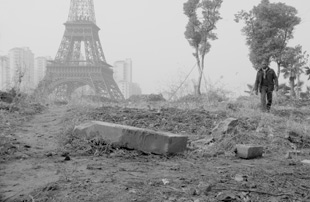 The exhibition begins before the visitor has entered the pavilion, with architectural 'interventions' that engage both a visual and physical levels. The main projection with 5.1 audio is 14m long and 3.5m high, served by four projectors. There are three additional 16:9 screens and a small 4:3 projection, using either stereo or mono sound.
Handling both audio and video, Scandinavian rental and installation company Informationsteknik chose Dataton's Watchout for the playback but had to think carefully about the audio – it required something that would keep perfect sync and also be easy to edit. With a background in theatre sound design, Informationsteknik's Sebastian Lissau Lund knows that keeping the audio elements separate is safer and easier when cue changes are needed, but it is often difficult to start all the playout devices precisely and keep them in sync for a video that loops all day.
The solution was found in Merging Technology's Ovation, with its ability to synchronise timelines with Watchout.
Watchout is used to drive the total projection system with Ovation acting as the slave: 'Ovation definitely appeared at the right moment for us and it ticks the boxes for the ideal system of having two playout systems working separately but in perfect harmony,' he says. 'My only frustration has been not having enough time to play with it before we shipped it out to Venice. Ovation is a welcome addition to our rental stock and I am sure it will see a lot of use in the future.'
The video was shot on location in China in 5K, using RED cameras.
See also:
More: www.merging.com