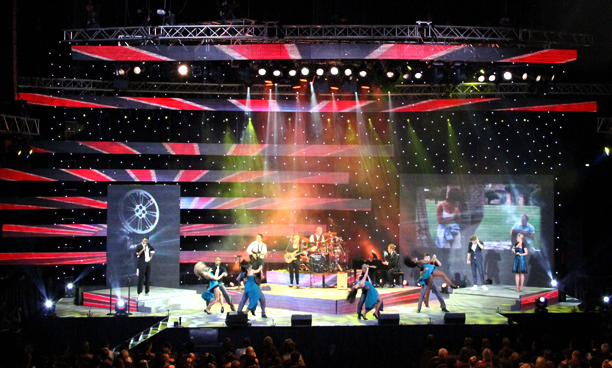 With its ambitious use of audiovisual content, South Africa's Ghoemas Music Awards had adopted Dataton's WatchOut multi-image display and presentation software. Initially, however, the accompanying audio presenteted problems.
The solution lay in Merging Technologies' Ovation media server/sequencer, as PenMac Audio Visual's Malcolm Finlay disovered at the 2013 ISE show. As the local WatchOut Premium Partner, PenMac advised the awards organisers that advanced audio could be added to the presentation...
The two-hour broadcast required 16 high-quality audio feeds to run alongside the WatchOut visuals. Once the programme was loaded onto the video and audio systems servers, IP addressing the audio track grouped files with the same names as the auxiliary timeline in WatchOut allows the audio to follow the video in frame-accurate sync. Although communication is via TCP/IP, no programming is necessary because the drivers are already integrated into the main applications.
'Our experience with the first outing of this Merging Technologies solution is that it "does what it says on the tin",' says Finlay. 'The initial [Ethernet] linkup between the two systems was achieved within five minutes and remained solid for the duration of the event. Other than the link to WatchOut, Ovation provides a great deal of flexibility to integrate audio with modern digital mixing consoles by way of any of the multichannel IP streaming audio platforms now available via fibre or copper. On this type of event, Ovation could also very simply extend its functionality into multitrack recording of the same event.
'Aside from mainstream music applications, PenMac is excited about the possibilities Ovation provides for surround sound multi-stream audio productions, particularly with a growing demand for stereoscopic productions,' he adds. 'Literally hundreds of high-quality audio streams are now possible to synchronise with your visual production. Theatres, museums and visitor centers can also benefit from this audio-on-demand technology where not only digital communication triggers requests, but discrete contacts are also a means of instant content playback as and when required.'
'I prefer to run a multitrack audio session with live performances as it provides good support, particularly on the backing vocals,' says the show's sound engineer, Murray Lubbe. 'At this event we used Ovation – synchronised to WatchOut – as the multitrack backup system, and it was fantastic.'
More: www.merging.com