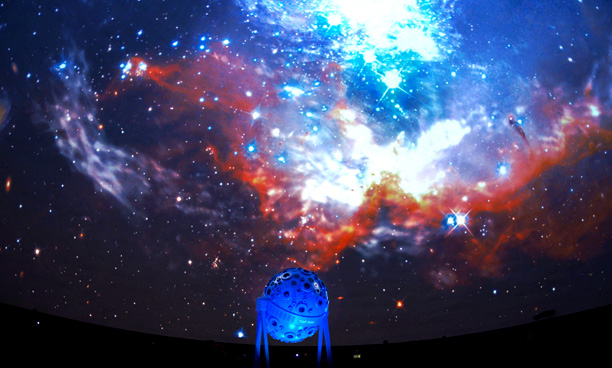 The Zeiss Planetarium in Jena (Eastern Germany) opened in 1926 and has remained in continuous service since. Its projection dome stands 14.5m high and has a diameter of 23m, providing a projection surface of around 800-sq-m.
With its old projector replaced by a full-dome video system using eight digitally-controlled projectors, it has added an audio system devised by QSC and the Fraunhofer Institute to deliver 3D sound from the projection dome.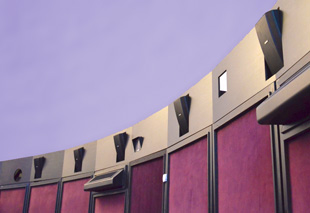 The audio sources used in the planetarium's presentations are digitised, processed by powerful PCs in real time, placed in a 3D soundstage and manipulated, and then converted back to analogue before being passed to the loudspeaker system. Up to 64 analogue signals are simultaneously passed to 16 QSC CX254 four-channel amplifiers and on to a system of 60 two-way QSC AD-S82H loudspeakers and four subwoofers.
Forty-six of the 60 full-range speakers are located in the gallery, with the remaining 14 behind the perforated metal covering of the dome. Because the dome is not a perfect circle, and is slightly flatter at the sides, the seating faces a particular direction rather than being concentric. The sound systems take account of this – near the front of the dome the QSC AD-S82Hs are also closer together than at the rear, because human hearing is better at picking up sounds coming from the front than the rear.
Thanks to the hard work of the engineers who have brought together QSC technology with that of the Fraunhofer Institute, the visuals and audio mesh seamlessly, creating a breathtaking experience in which you can pick out every aural and visual detail. As Jürgen Hellwig, the planetarium's Director points out: 'it can't be a coincidence that the Zeiss in Jena recorded a record number of visitors for a single month after the new systems were presented to the public'.
More: www.fraunhofer.de/en.html
More: http://qsc.com