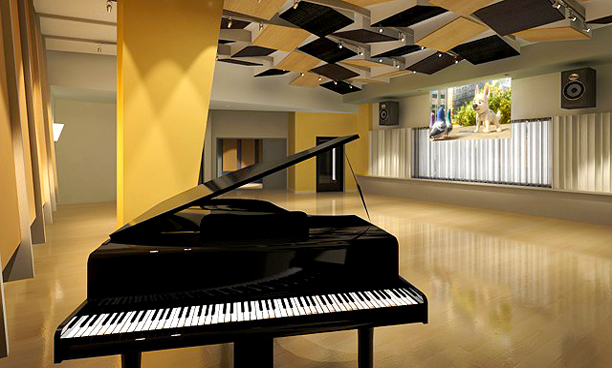 A significant expansion programme sees the Berklee College of Music opening new facilities in different continents. In Valencia, Spain, a new campus opened in January 2012, while in Boston the first ground-up building in Berklee's 66-year history is underway.
Although US and Spanish architects involved were given strikingly disparate footprints, the Walters-Storyk Design Group was commissioned to give consistency to the audio education studios for both complexes.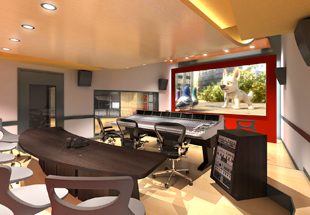 'We have a long-standing relationship with WSDG, and with architect/acoustician John Storyk who designed Electric Lady Studios for Jimi Hendrix among many world-class studios all over the world,' says Berklee President, Roger H Brown. 'In addition to designing a number of teaching studios and media rooms for our Boston campus, Mr Storyk is a visiting professor for our MP&E Department. He developed Berklee's signature studio design course and also lectures frequently to our music production and engineering students. Both 160 Mass and our Valencia campus required exemplary creative and technical standards.
Celebrated Spanish architect, Santiago Calatrava's ultramodern Valencia Campus personifies Berklee's commitment to the future. The sprawling 18,000-sq-ft East Technical Wing features a 1,360-sq-ft recording studio which includes an 850-sq-ft live room; four project/production studios ranging in size from 135 to 200-sq-ft; and multiple classroom/tech support rooms.
'Berklee Valencia sets a new standard for European audio education and signal a new level of achievement for WSDG,' says WSDG Partner/Senior Project Manager, Romina Larregina. The firm's 40-plus years of designing professional recording environments and educational facilities includes such major schools as: NYU, the Universities of Colorado and Michigan and The Vatican's new Javeriana University, in Bogota, Columbia.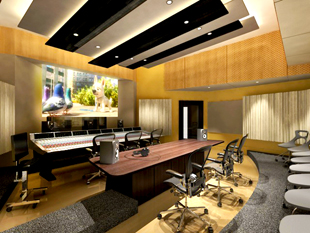 Designed by William Rawn Associates (Boston), Berklee's 155,000-sq-ft 160 Massachusetts Avenue tower is a 16-storey, US$100m home to eight WSDG recording studios, including a live room scaled to host a 60-piece orchestra. Scheduled for completion for the fall 2013 semester, the complex encompasses technical suites, classrooms, a film dubbing theatre and athree-storey 4,000-sq-ft, 400-seat, dual purpose, auditorium/dining hall with a dramatic two-story glass wall facing Massachusetts Avenue.
'We are investing everything we have learned about acoustic excellence and educational prerequisites in these important assignments,' says Larregina, who is serving asWSDG PM on both projects. 'In addition to maintaining close contact with local contractors, systems integrators and our offices in Brazil, Argentina, Barcelona and Switzerland, I made regular site visits to Valencia and continue to personally monitor the progress in Boston.
'Our international team is collaborating on every facet of these projects,' she adds. 'We have developed methods of pooling our mutual skill sets in technical drawing, systems integration, HVAC, room isolation, acoustical treatments, and the myriad related issues. We are particularly fortunate to have been engaged at the planning stage, as this enables us to anticipate and eliminate potential acoustic problems rather than having to devise 'fixes,' after the walls, floors and ceilings are in place.'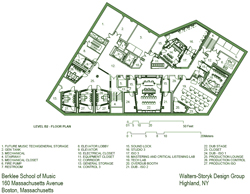 'Commissions on the scale of Berklee's Boston and Valencia projects are rare in today's economic environment, but these will be extraordinary campuses,' John Storyk says. 'We engaged the most advanced predictive acoustic modeling software and have incorporated the latest acoustical and technical developments in every facet of our design to insure the highest degree of future-proofing for these studios and teaching labs. Roger Brown's visionary commitment to bringing these schools to life speaks volumes about our faith in the future.
'Berklee will be preparing students for generations of creative, rewarding careers, both here and in Europe. WSDG is honoured to be associated with this mission.'
More: www.wsdg-ftp.com