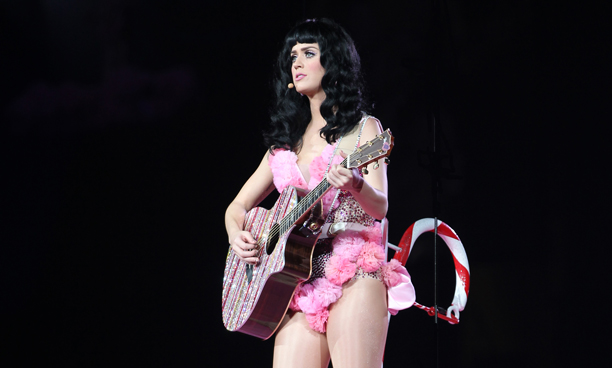 The fast-paced, high-action set mechanics of Katy Perry's current California Dreams world tour means that front-of-house engineer Peter Keppler needs a mic that can readily adapt to changing situation.
'When selecting a microphone, I wanted something that would provide a well-balanced, open and airy sound,' he says. 'She's a strong singer with a great voice and I thought finding a good headset mic would be a challenge. From the moment we tried the DPA 4088, I knew the sound was no longer going to be a problem.'
The design of the DPA 4088 cardioid headset makes the mic almost invisible, and its ability to eliminate feedback and background noise make it a simple choice for a high-octane tour like Perry's.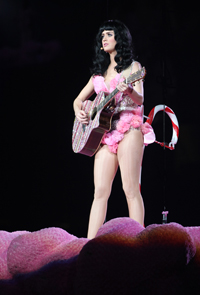 During 'Thinking of You', the singer stands on a pink cloud that allows her to fly out over the audience playing an acoustic guitar. During this performance, Perry is in front of the main PA – a potentially disastrous sonic scenario regarding feedback.
'The off-axis rejection performance of the DPA 4088 was a lot better than anything else I'd ever heard,' Keppler explains. 'All the headset mics I'd previously used sounded very unnatural – either muffled or very thin and boxy, and feedback problems were terrible. The DPA 4088 solved all of these issues. Her audience shows her a lot of appreciation, and they get especially loud when she flies over the crowd during Thinking of You, which also happens to be the quietest song in the show. The DPA 4088 has come through time and time again when I really needed to get Katy's voice above the level of the audience. The gain before feedback is excellent.'
The DPA 4088, which Perry uses exclusively as her headset vocal microphone, also proves its worth during the song 'Hot N Cold', where she changes her outfit seven times. Since this would be impossible with a handheld, Keppler selected the DPA 4088 because it could withstand the abuse, while allowing Perry the freedom to move about the stage.
'For Katy, the requirements were that the mic sounded great and was as small, lightweight and inconspicuous as possible,' says Keppler. 'We selected the beige-coloured version so it's even less noticeable when she wears it.'
Having worked as FOH engineer for Nine Inch Nails and David Bowie, Keppler knows what it takes to keep the audio running for a live tour. Night after night the 4088 has survived the rigours of the road: 'The 4088 has held up amazingly well,' concludes Keppler. 'Sonically, it always delivers. The hardware and wiring are both surprisingly robust, especially considering the abuse they take on a nightly basis.'
The California Dreams tour continues through Europe into February 2012.
More: www.dpamicrophones.com