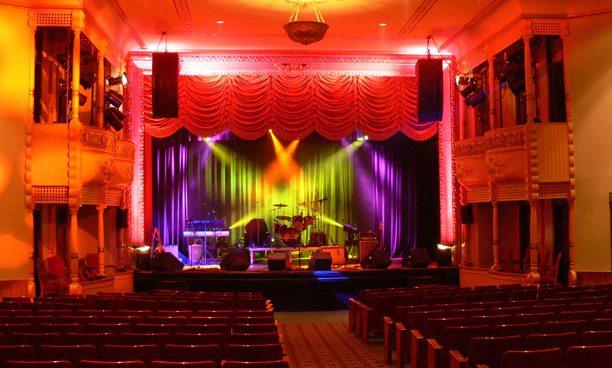 The renovation of the landmark Memorial Opera House in Valparaiso (Indiana) was sure to preserve the building's architectural heritage – but equally determined to provide its music and theatre productions, and other performing artists with cutting-edge technology.
The 364-seat theatre has been kitted out by Guitar Center Professional – (GC Pro), the outside sales division of Guitar Center that serves professional users – with the support of systems designed, specified and installed by 101 Event Productions of Dyer, Indiana.
One of the approved vendors in GC Pro's Affiliates Program, 101 Event Productions assists GC Pro in offer turnkey services, including technology and product advice, design services and installation/integration.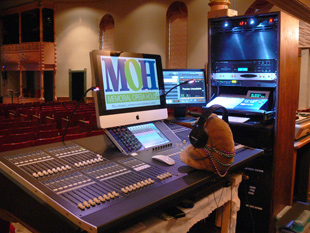 Built in 1893 by the local chapter of the Grand Army of the Republic, the Memorial Opera House is a memorial to the county's Civil War Veterans. With the recent upgrade, it's now a state-of-the-art performance facility, with technology and products including a JBL VRX932LAP line array PA system and JBL AL7115 subwoofers; Yamaha M7-CL48 mixing console at FOH fitted with a digital interface card for an Avid Pro Tools recording system running Pro Tools 9 software and a Lynx Aurora A-D converter; a 16-channel Yamaha LS932 console for monitors; a Clear-Com CP222/CM222 Tempest 2400 2.4GHz two-channel communications system and Clear-Com MA702 intercom system; a Listen Technologies LS8101 IR listening assist system with LR42 receivers; a BSW 360 DR600 Instant Replay 2 Soundfile Player; and 18 channels of Audio-Technica wireless, including 12 AEW-5111 systems from A-T's Artist Elite 5000 Series with Pro 92cW headset, and six ATW-3141b systems from A-T's 3000 Series.
Michael Anton, Owner of 101 Event Productions – known as 'Frenchy' to his entertainment and touring clients (including Mary J Blige, Reba McIntyre and Paul McCartney) – says that the opera house presented some significant challenges, including the fact that it was never designed for multi-use productions.
'It had been designed as an open hall for theatre, but they had plans to use it for everything from rock concerts to comedy shows and most recently they will also use it as an indie film house, so there were definitely structural issues,' he explains. 'It needed one sound system that could cover all of that.'
Anton says GC Pro made all the difference in achieving that goal. The JBL VRX system was a good solution but costly; however, GC Pro found a way to make it work within the limited budget that Anton had to work with initially. 'They know their stuff and were able to make things happen so that we never had to compromise,' he says. 'That worked so well that they could see that better equipment would help them sell more tickets and they increased the budget enough for us to go digital with the console and the snake. Everyone who has performed there since wants to come back.'
'GC Pro and 101 Event Productions hit a home run for the Valparaiso Opera House,' says Ryan Nigh, Account Manager at the GC Pro office in Hobart, Indiana. 'GC Pro's knowledge and inventory, combined with 101 Event Productions' design and installation expertise, offered a turnkey level of service and that made all the difference. Not only were we able to together suggest and source all of the equipment, but we could also make sure that it all worked together, creating the kind of venue they wanted, one that could compete with venues in larger cities – nothing compares within the state. Major music artists can walk right in, and the facility is ready to go. That's the power of what GC Pro can bring to any performing venue – service that takes you from start to finish, all done right.'
More: www.gcpro.com