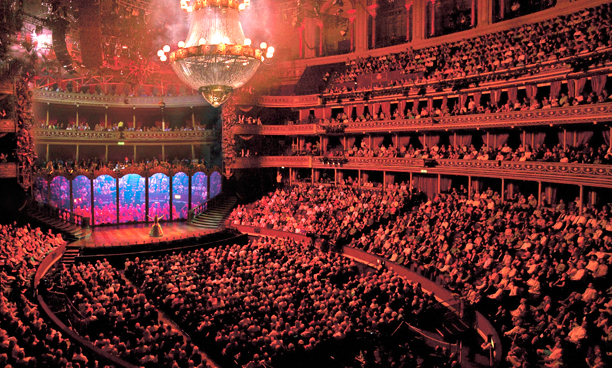 Broadcast live to 1,000 cinemas in the UK, 200 in the US and 200 in Europe, The Phantom Of The Opera marked 25 years with a special production of three sell-out performances over two nights at London's Royal Albert Hall.
The broadcast found Red TX's new Red II truck looking at 172 channels spread across four stageboxes on its Score Live-powered Studer Vista 8 digital console. 'This is technically the highest channel count we have ever run from one truck,' says Red TX MD, Ian Dyckhoff. 'It creates a bit of added pressure, but having so much combined experience between us is a real bonus.'
Three recording stems were set up to record in 5.1 and stereo (for cinema) and 5.0 for other TV broadcasts. Rather than taking an automatic stereo down mix, Red TX created a separate stereo mix, providing greater control, for cinemas unable to take surround sound. They also employed a unique Cinema Matrix 5.1 setup that uses the X-curve for cinema equalisation.
Each Studer HD interface card can carry up to 192 channels in Vista systems at sampling rates of up to 96kHz, and is connected to the DSP core by standard Cat5 twisted pair cables. The system automatically detects newly inserted audio cards and assigns the required number of audio channels to them by pressing the front panel Reconfig button – a feature Red TX finds particularly useful. In fact, Red II's Studer environment, with D21m digital I/O frames and stage boxes, is configured to enable 192 channels to be recorded from the desk, with three Madi streams, 48 channels of AES (24 stereo) and 32 line.
The team arrived at the Royal Albert Hall several days before the show for line checks, rigging tests and to set up templates – and with the lead characters joined by a cast and orchestra of more than 200, the extended prep time was needed, as the show proved challenging.
Working alongside live sound company, Autograph Sound supplied separate radio mic, choir and orchestra mixes to bring all the feeds into the truck independently. These were captured as 57 snapshots on the Vista 8, mostly for the orchestral arrangements. 'We used a standard 2s crossfade on the snapshots and they were as smooth as silk,' reports Red TX main sound engineer, Tim Summerhayes.
See also:
Red Hot and Red II (recording the Red Hot Chili Peppers)
In the Red – Recording Michael Forever
More: www.redtx.com
More: www.studer-ch